Continued from Part I
.  
The fascinating story of a certain Mr Hasan Ali Khan would have remained just a story but for a PIL petition by Sh. Ram Jethmalani and a Supreme Court bench which clearly felt enough was enough.
Yesterday, I shared with you the trail of news-reports leading up to February of this year.  The final trigger to this post were three news-reports that appeared last week and a remarkable observation by Supreme Court.  The first of these three reports from last week was by C
NN-IBN that confirmed what many had already suspected
. Titled, "
Hasan Ali's link to gun-running, terror exposed
", it mentioned how
Ali is under investigation by the Income Tax Department for laundering upto Rs 40,000 crore.
This was the first time I had heard of Hasan Ali being investigated for "money laundering". Up until now, alls I had read was a case for tax evasion. But CNN-IBN was categorical about where the investigation was headed:
Hasan Ali Khan – frequently seen on the race courses of Mumbai and Pune – owns race horses, a fleet of imported luxury cars and prime property in Europe. Yet, he didn't file any income tax returns. But now, Hasan Ali was seen going in and out of Income Tax offices because he is the main accused in India's biggest ever multi-billion-dollar money laundering and tax fraud case.
Not that this shocked me. The report also mentioned how:
Investigators have procured three letters Rogatory or Letters of Request, sent to United Kingdom, Hong Kong and United Arab Emirates on July 13, 2009, which showed how huge funds were amassed. Suspected to be proceeds of crime, the funds have been invested in various immovable and movable assets, which include deposits in various banks around the world through Money Laundering. (sic)
Ignoring the poor editing for a while, the report added that
Hasan Ali's offences are not just related to money laundering, but also gun-running, terrorism and forgery.
The report included details of several multi-million dollars (actually hundreds of millions dollars) transactions. It also mentioned that "..many of Hasan Ali's transactions involved Kolkata-based businessman Kashinath Tapuriah. Tapuriah is the younger brother of late Priyamvada Birla….
And
In an exclusive interview to CNN-IBN in Kolkata, Tapuriah said he was introduced to Hasan Ali by two former MPs, both from Andhra Pradesh.
Tapuriah, for instance, named two politicians as the ones who allegedly referred Khan to him (A.S. Chowdhary and Vijay Bhaskar Reddy).
Is this true? Have Sh Reddy and Sh Chowdhary made any statement denying or accepting their links to Tapuriah and/or Hasan Ali Khan? Interestingly, the CBDT appears to have been keen to ensure that no "political connection" be revealed in this case. How else does one explain the curious statement by Sh A K Sinha quoted in this India Today cover story of March 26 2007?
..Central Board of Direct Taxes..spokesperson A.K. Sinha said, "There is no question of any political party or politician's name figuring in the investigations. It is purely a flight of imagination."
The second report last week was from ToI. Title
d, "
SC pulls up Centre on Hasan Ali case
",
it mentioned how the "
Supreme Court questioned the government over the progress made into investigations on Hasan Ali"
"What is in the way of taking action against Hasan Ali," the court questioned the Centre. "How many years will investigations continue against Ali?" it added. The court said the matter was serious and it did not want any delay.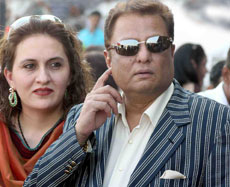 The Supreme Court also wanted to know why custodial interrogation of Hasan Ali and other alleged black money launderers had not taken place yet. Interestingly the court also ordered
..forthwith reinstatement of three key ED officials allegedly transferred midway into the probe in a case of foreign exchange law violation by the Pune businessman Hasan Ali Khan.
Who were these officials? When were they transferred? Was this information not known to the media? If it was, why was it never reported? Was it not important enough? Not relevant enough? Or some other reason? The Supreme Court appears to have been clearly exasperated by the explanation and/or the delay in the probe:
When Solicitor General Gopal Subramanium tried to make certain submissions, the bench virtually snubbed him, saying, "What the hell is going on in this country."

..The bench granted time till Tuesday (8th March) to the Centre to file its response failing which it said the court would be constrained to pass necessary orders.
That is being taken care of….All appropriate action will be taken..
The income tax department has issued a show cause notice to tax defaulter Hasan Ali, on non-payment of Rs 40,000 crore worth of tax dues. He has been given 15 days to reply.
Does that mean that Sh Hasan Ali is to appear before ED on 7th march but can remain silent until 15 days?
Indian Express
however quotes Hasan Ali's CA saying that he is going to appear before ED on March 10.
Pune-based Hasan Ali Khan will appear before the Enforcement Directorate (ED) in Mumbai on March 10, said his chartered accountant (CA) Sunil Shinde here on Friday.

Producing copies of an ED summons, Shinde said Khan will co-operate with investigators and hold a press conference within 15 days to answer questions raised against him. The summons was over money laundering allegations.
So is this another meeting with ED after March 7th? Or is the March 7th date wrong? And what is the real amount of tax demand? Rs 40,000 crores? Rs 50,000 crores? Rs 70,000 crores? or some other number? Questions, Questions and more questions.
The system has already become sick. What can be the expectation of the common man for speedy justice? Even in the Supreme Court, a special leave petition takes eight years to reach final hearing.
So there you are.
In the meantime, Sh Hasan Ali continues with his work-outs and generous Rs 400-500 tips on   restaurant bills that are "just around Rs. 100".
Oh and did I mention he now has an entry in Wikipedia too?  To top off this 2-part series,
a few snippets to add more colour to the fascinating story of a certain Mr Hasan Ali Khan, stud farm owner and mystery billionaire…
After closing down the car rental and then a scrap business, Khan started a jewellery shop in Kuwait in partnership with a man called Hussain from Jammu and Kashmir in 2006-07.
I wonder what is the status of this "business"? Next:
Khan possessed three passports, the first issued in Hyderabad, the second in Mumbai in September 1998, and the third in Patna in April, 1997. On how he lost his original passport in UK, Khan is believed to have said that "he owed a huge chunk" of money to some illegal Russian nationals who seized his passport. The Indian High Commission issued him a fresh passport.
I also learnt during my background research that between July – Oct 2008, while being on the run- after his bail plea was rejected:
Khan is alleged to have shifted to the private residence of a government official, paying a rent of around Rs. 5,000 per day, in Lonavala between July and October 2008.
Who was this government official? Why was the rent so high – equivalent to a five-star hotel room rates? I also stumbled on
an Indian Express story
which revealed
how Hasan Ali Khan's bank account had "swelled" over the years
:
Evidence from a June 2003 document recovered by the agencies, duly notarised by the Notary Public of London

• Khan had an account with a deposit of $1.5 million with UBS Singapore. The recommendation was organised by Dr Peter Weilly through arms dealer Adnam Khashoggi, whose portfolio was handled by Weilly

• A payment of $240 million was approved by Weilly and accepted by Reto Hartman at UBS Singapore

• After the $240 million transaction, the account moved from UBS Singapore to UBS Zurich in 1986

• By December 1997, the deposit amount reached $560 million. Due to certain problems, Khan could not operate this account

• As on August 31 2006, the balance in the account was $6.6 billion

• Balance as on November 2, 2006: $7.7 billion

• Balance as on December 8, 2006: $8.04 billion
I also learnt about a certain Mr Yusuf Lakdawala, Hasan Ali's "friend" with whom he stayed for four months.
Is this the same person
mentioned in this report?
Financer Yusuf Lakdawala know that when he throws a party, it's bound to be attended by the rich and famous of Mumbai city.

Former Chief Minister Vilasrao Deshmukh was around, while other political bigwigs present included Narayan Rane and controversial tantrik Chandraswami. Bollywood's high and mighty names comprised of Sanjay Khan, Madhur Bhandarkar, Abbas-Mastan, Dharmedra, Jackie Shroff, Bali Brahmbhatt, Jatin Pandit and his younger brother Lalit, Johnny Lever with wife Sujatha, Babul Supriyo, Talat Aziz, Raza Murad and Cricket Mohammed Azharuddin.
And
finally, a news-report that revealed Hasan Ali's involvement with law-enforcement agencies going back a long way…A very long way back, in fact..to 1984.
The Hyderabad police seem to have washed their hands of Syed Hasan Ali Khan alias Hasan Ali, the 53-year-old stud farm owner allegedly involved in a mega-crore money-laundering scam, by claiming that all the seven criminal cases pertaining to him have been disposed of by the courts.

Hyderabad Police Commissioner Balwinder Singh and Additional Commissioner of Police (Crimes) told newsmen on Monday that two cases of bank fraud, four cases of cheating and a case of acid attack on a doctor were lodged against Hasan Ali in various police stations.

"No case is pending against him as all the previous cases were disposed of by the courts," they pointed out.

…The Hyderabad City police had arrested Hasan Ali twice between 1991 and 1992, once for allegedly cheating the State Bank of Hyderabad and the next time for duping private persons.

The city police had caught him in 1991 with the help of Interpol and the Canadian police for cheating the SBH. On the pretext that his mother was ill in Toronto, he had fled to Canada after a case was registered against him.

The Hyderabad police had alerted Interpol about Hasan Ali and they informed the Toronto police who arrested him and brought him to Mumbai, after which he was taken to Hyderabad. Subsequently, he was acquitted.

He is said to have been picked up by the police from Mumbai again in 1992, brought to Hyderabad and remanded to judicial custody in one of these cheating cases. The police had seized four cars, including a Mercedes, from him. He went free, however, since the victims did not come forward to pursue the cases against him.

The oldest case against Hasan Ali pertained to an acid attack on a doctor, his neighbour, in 1984. Dr P Niranjan Rao's face was disfigured and he had to undergo 30 surgeries. Since the police could not trace the records relating to the case, it is not clear whether Hasan Ali was arrested and acquitted in this case.
However a report in Indian Express dated a day after appeared to contradict the reported statement of two police officials in the case. In fact the report had a sentence that almost contradicted the headline itself! Titled, "
No case against Hassan Ali in Andhra: Police
", it mentioned:
Police are, however, still investigating to see if there are any more cases against him.
I doubt if we will ever know…and sometimes I despair whether many of us really care.
Google News tells me that some of the headlines making "news" today are: 'They used hypnosis to rob elderly", "Varun Gandhi ties nuptial knot with Yamini", "Jats demand reservations, block Lucknow-Delhi route" and "Omar Abdullah bats for grant of passports to kin of militants in J&K". And of course my twitter time-line is overloaded with  the World Cup "news".
As for corruption, tax-evasion and scandals, I am reminded of the title of one of my posts (that oddly, had nothing to do with corruption or scandals): "Kuch nayee baat batao yaar!" (roughly translated as: Tell me something new). Sigh.
In case you missed the first part: : A stud farm owner, arms deals & missing billions (dollars!)