George Friedman explains it well…From Geopolitics, Nationalism and Dual Citizenship (emphasis added)
In looking at the nation-state, the idea of nation is more complex, and perhaps more interesting, than that of state.

The idea of nation is not always clear. At root, a nation is a group of people who share a fate, and with that fate, an identity. Nations can be consciously created, as the United States was. Nations can exist for hundreds or thousands of years, as seen in parts of Europe or Asia. However long a nation exists and whatever its origins, a nation is founded on what I've called elsewhere "love of one's own," a unique relationship with the community in which an individual is born or to which he chose to come. That affinity is the foundation of a nation.

If that dissolves, the nation dissolves, something that has happened on numerous occasions in history.

Nationalism has endured because it provides individuals with a sense of place, community, history and identity. It gives individuals something beyond themselves that is small enough to be comprehensible but far greater than they are. That nationalism can become monstrous is obviously true; anything that is useful can also become harmful. But nationalism has survived and flourished for a reason.

In blurring the lines between nations, it does not seem that it has reduced conflict. Quite the contrary, it raises the question of where the true loyalties of citizens lie, something unhealthy for the citizen and the nation-state.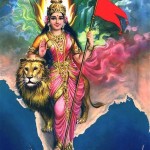 Image of Bharat Mata (author unknown).
P.S. "Bharat Mata" is the personification of India as a mother Goddess. As many of you would know, the phrase "Bharat Mata ki Jai' ("Victory for Mother India") is used by numerous nationalist organisations as well as the Indian Army.
I believe there is also a temple to Bharat Mata at Varanasi that was inaugurated by Mahatma Gandhi in 1936.
Also read:
A nationalism rooted in Sanatan Dharma
Acorn writing On Liberal Nationalism