Courtesy NY Times, I learnt today that a certain "militant group"
..has expanded its operations in Afghanistan, inflicting casualties on Afghans and Indians alike, setting up training camps, and adding new volatility to relations between India  and Pakistan
Curious to know who this "militant group" is?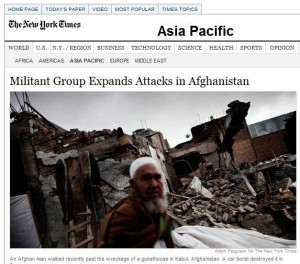 It goes by the name of Lashkar-e-Taiba and inconveniently happens to be a designated foreign terrorist organization by the US State Department.
Of course the State Department cannot control NY Times' use of words…but I wonder…when we cannot even name the enemy, what hope is there to win the war?
Interestingly, the word "terrorist" does not figure in the report at all…even as you have about half-a-dozen mentions of "militants".
Even more interestingly, the NYT has no use for such nuances when it comes to mention of "Hindu Terrorists".
And to think this is the same newspaper that finds the use of the word "tweet" objectionable.
Sigh.
Related Posts: Very very bad militants… and The missing "T-word"
Somewhat Related: Why the "War Against Terror" cannot be won by guns alone
P.S. I am almost tempted to join "Boycott the New York Times".
Additional Reading: Cookbook on dealing with Orwellian Media Tactics
"Are Hindus Violent?" – Excerpts and Of Students and Sadhvis…