Dear All: I am very pleased to formally announce the launch of Indore-PAC's kick-starter event, "Ideas for Indore!"
"Ideas for Indore!" is an essay competition open to all residents of Indore, from the age of 15 years onwards. We encourage students, youngsters and citizens of Indore to actively participate in this Competition and share their ideas and proposals on development of Indore with others.
There are almost 20 prizes on offer. This includes a first prize of Rs 25,000/-
Participants are free to choose any specific issue related to governance, civic matters, security etc. that they wish to elaborate through their essay. Indicative topics include:
Indore BRTS & improvements
Water solutions for the city
Police & citizen involvement
Security & women safety
Education & Employment
The competition will be conducted in 2 age groups: 15-19 years and 20 years+ 
Entries will be accepted in Hindi and English (with separate prizes in each category and age group).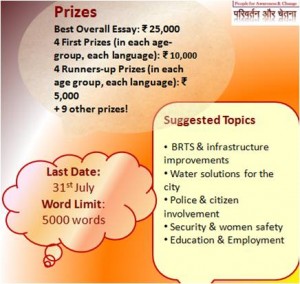 The winning entry would be given a chance to present their idea at the awards distribution ceremony, planned for 31st August '13.  The winner will be mentored by members of इंदौर-PAC for this presentation.  Please send your entries to IdeasForIndore@Indore-PAC.in or by post at our address mentioned here. There is a total prize money of Rs 1 lakh on offer!
And don't forget the last date – 31st July 2013.  Please share this with your friends, family and acquaintances in Indore! Jai Hind, Jai Bharat!
Related Post: इंदौर-PAC: The Next Step in "Reclaiming India – One Step at a Tme"
P.S. Here is a link to a write-up in today's Dainik Bhaskar DB Star by Amitabh on Indore-PAC!