Late in February of this year, as I was desperately trying to catch some breath in the middle of an intense schedule, a close friend asked me when will I begin to slow down..I told him, I am not sure but I do not think it is going to happen anytime soon. The days leading up to late February and the several weeks after that have been a crazy whirl of activity. But things are about to "heat up" – once again!
Over the next few weeks, we will begin to ramp up an initiative that has been in "stealth mode" for the last few weeks. This new idea is "इंदौर-PAC". "PAC" stands for "Parivartan Aur Chetana" . Or if you prefer, "People for Awareness and Change".
Together with the "Sone ki Chidiya" movement, इंदौर-PAC is the defining phase in my activism and the next logical step in the journey that began many years ago…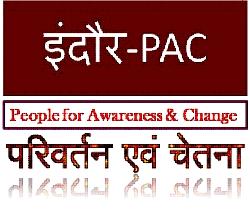 We are still putting the building blocks together but the broad skeleton is now in place. We hope to make इंदौर-PAC the nodal organisation in Indore when it comes to governance related activities and civic matters. We hope to make it the hub of an informed & active citizenry – and a successful model of how voters and citizens can interact, work with and collaborate with local government & elected representatives to come up with solutions to a range of developmental challenges – be it public transport, water, roads or deficiencies in civic development of specific localities.  Our objectives include (among others):
promoting and sustaining good governance practices and policies
promoting a good quality of life for all citizens of Indore city
promoting integrity and transparency in all arms of the government
And our planned activties will involve
Checking of Voters List data for completeness and integrity
Comparison of Party Manifesto's with reference to specific issues
Proposals and ideas for development in Indore
Encouraging initiatives like http://ipaidabribe.com/ which we believe will help in sensitizing the bureaucracy towards corruption involved in day-to-day administrative and civic activities
etc.
इंदौर-PAC is distinguished in one important way from other fledgling political or developmental efforts. We will consciously stay focused on "solutions" rather than problems – and our style will be collaborative instead of confrontational when it comes to addressing the governance and development challenges in Indore. Ideologically, we are strongly aligned with the "Sone ki Chidiya" movement.
While most of our activities/efforts will be on the ground in Indore, there are many tasks for which we can do with some help. Please do let me know if any of you have the time to volunteer for this so I can include you on our Google group.
And pl do share with your friends, family or colleagues from Indore so that they too can participate, share their ideas and make their voice heard on matters that are going to affect their city.
We are in the process of setting up the legal entity, opening a bank account & other such things. But the initial work has begun – including the soft launch of our facebook page! It is time to roll up our sleeves now, once again!
Needless to add,
none of this can work without your active support, encouragement and contribution
..So
please do think how you can get involved…Pl ask questions and suggest other ideas..Join the discussions over at Google groups
..and stay tuned for more in the days to come.. Together, we will win! Jai Hind, Jai Bharat!
.
P.S. Pl note I am travelling intensively over the next few days so there may be some delay in responding to and/or moderating your comments.. Thanks for your patience and support, as always.