..this is what you may have missed!
***
0057am: Dawn of my 4th day in the heartland of Naxal territory – Andhra Pradesh, Odisha and Chhatisgarh..
Touched by the simplicity and sincerity of "Adi-Vasis" and the utter lack of guile..
Trying to get a first-hand understanding of the situation in this beautiful region – which, in spite of its rich natural resources, remains deprived, poor and under-developed..
So many stories and so much to write about..
Serendipitous experiences include a chance meeting with Commissioner, Jagdalpur and discovery of a beautiful temple dedicated to ShriRam in a hidden village in Bastar. More on this in the days to come..
My discovery of this ancient land continues – one step at a time..
Jai Hind, Jai Bharat
This pic is of the bend in the river behind the ShriRam temple..
***
113am: Some days become special, sometimes quite unexpectedly so. Today was one such day.
It started off with a meeting I had with Arvind Kejriwal, accompanied by friend, FTI colleague and AAP key team member, Somnath Bharti..
And it ended with a wonderful dinner with noted Supreme Court lawyer Ashok Arora at his 5th Flr apartment near India Gate with stunning views of the New Delhi skyline..
But the best part was the afternoon..
At FTI's 4th Annual Convention today, the "Sone ki Chidiya" team members met with representatives of more than half a dozen organisations to chart out a course for movement aimed at comprehensive national reform..
We discussed, debated and argued for over 3 hours..Some excellent ideas and suggestions came up..and enough food for thought for the next several days + enough To-Dos for all of us..
Tonight my head will be buzzing!  Together, We Will Win! जय हिंद, जय भारत!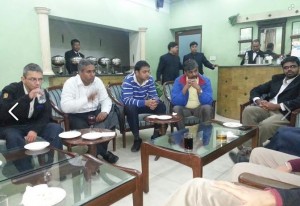 ***
"1135am: I'm at a sun-soaked balcony near Sanjay's place in Rishikesh, overlooking Ganga-ji..
It is a breathtaking view, serene and tranquil – almost other-worldly.
I find it hard to peel myself away from the place.
Sanjay has arranged for the second driver to accompany us since I am determined to come back the same day.
Ram, Sanjeev and others are worried that after several nights of inadequate sleep, I am certain to doze off en-route so a second driver (to keep Ajay company) is must.
Ajay is not too happy about this.  He asks me to have trust in him. Something in his voice convinces me.
I pay the second driver for the trouble of getting him to Sanjay's place but tell him that we do not need him any more.
Sanjay is insistent on at least having tea together. I tell him that we have barely 6 hours to make it for the Aarti. We will almost certainly miss it unless we start on our way without further delay.
…
It's a beautiful winding road all the way up to RudraPrayag and a lovely winter morning.
Warm and clear blue skies.  I can see why Uttarakhand is called 'Dev-Bhumi'…"

Above, an excerpt from my diary during Tirth12 http://bit.ly/Tirth12 ..and here is a glimpse of the breath-taking views…
***
Here is how you can subscribe to these updates...
For the daily updates, please click on the link below
Subscribe to || Satyameva Jayate || Facebook Wall by Email

Alternatively, please enter your email address below to sign up to the weekly compilation of updates: