A School for Political Leaders of Tomorrow
4 August 2012
164 views
One Comment
Some of you may recall a brief post last year about an extraordinary institution called "Chanakya Institute of Public Leadership" (CIPL) in Mumbai.  For those who may not know or remember, Chanakya Institute is a school for the political leaders of tomorrow. Based on the eternal political principles of Chanakya (also known as Kautilya or Vishnugupta) given in the Kautilya Arthashastra and Chanakya Niti this school equips students in the 'Art of Thinking' besides training them to apply modern technology and specialized management techniques in the political arena.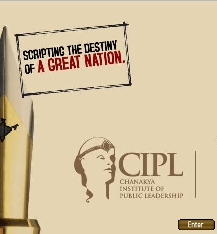 CIPL was born out of a belief that most people who are in public life today are not trained for it…"they learn the job 'on the job'. Furthermore, "an entry into the political arena is either by default or as a family legacy" . This – at least – partly explains the paucity of talent in the political sphere in India. CIPL has decided to do something about it.
Their 6-month residential programme is based on 'Kautilya Arthashastra' the supreme text on 'RajNiti'. The course has been created in partnership with 'Mumbai University' with access to its infrastructure. The teachers are leading exponents of Arthashastra, spiritual gurus, University faculty, politicians, administrators, lawyers, economists and businessmen.  During the course the students work on several live projects besides visiting the 4 corners of India (including the Parliament while it is in session) and meeting all kinds of leaders from the society.
Most importantly, it is a state of the art 'Gurukul' with No tuition fees and 'Merit' as the only criterion of selection (upholding the Guru-Shishya parampara) .
Tow batches of students have already graduated from CIPL. You could be part of the third one!  The Institute is now accepting applications for the programme beginning in the next few weeks. If you are keen, move fast. The last date is 20th June.  For more, please see http://www.ciplmumbai.in/
Related Post: "Sukhasya moolam Dharmah" and A great first step to a career in politics