On Greece, Freedoms & Notes from the Road..
19 June 2012
171 views
One Comment
As I completed my several days of travels around the country last week, the mood and the conversations I had resonate very strongly with this piece – written by noted Greek columnist and editor, Nikos Konstandaras (emphasis added):
..The vote on Sunday will change our lives — determining not only whether we remain in the euro zone but also the nature of our society and the fate of the democracy that was re-established just 38 years ago after a dictatorship. We are bitterly divided between those who want to carry on with the reform process and those who want to turn back the clock.

..At a moment when the choices should be as clear as possible — between reform and stagnation, between Europe and isolation, between painful progress and the deceptive comfort of surrender — the issues are hopelessly confused by false expectations, by false choices and by the total failure of a political class that can't propose solutions to the country's problems and can't forge a minimal national consensus on what is at stake and what needs to be done.

We face a choice between two deeply flawed alternatives. On one hand, there is New Democracy, a center-right party that has done much to undermine Greece's economic reform and revival over the past two years. It refused to support the bailout agreement signed by the Greek government..and..undermined initiatives like tax reform that would have helped combat tax evasion..Yet it is now presenting itself as the responsible force..

On the other hand there is Syriza, a fractious coalition of 12 radical groups that has anointed itself the herald of leftist change throughout Europe and declares that it will immediately annul the bailout agreement while demanding that our partners continue to lend us money. The latter course could lead to the country's swift exit from the euro and a chaotic and unpredictable future.

Since last October..we have lived with desperate uncertainty. Suicides, once few, are on the rise as the pressure becomes too much for some. Meanwhile, families and the disorganized and underfunded social security system can no longer cope. In a country of fewer than 11 million people, more than a million are jobless.

..The insecurity shakes us to our core. When I go to the A.T.M., I hold my breath until I hear the reassuring whirring sound that says the machine will give me what I've asked for. I wonder whether I will be so lucky next time. My wife and I have been working for more than 25 years, saving for our children's education, because even though about half our salaries go to taxes and social security, we know that we must pay for private schools, that we cannot count on state hospitals, and that our pensions are not guaranteed.

..Every day we wonder whether we have done the right thing

..The choice Greeks face on Sunday might appear simple — between tightening our belts and remaining in the euro or leaving it and facing an economic meltdown. But politics is never simple here.

..None of these parties have advanced a serious agenda to avoid disaster...the people who work hard and pay taxes, who have a stake in reform and progress, who carry the burden of every mistake, have no credible representative to vote for. Those who want a better Greece have to look for the least bad option.

The widespread feeling of loss is worsened by the understanding that we wasted most of the past four decades — the longest period of peace and prosperity that the country has known. Greece made great strides toward achieving the standards of its European partners, with major infrastructure projects, hospitals and schools, and with European Union subsidies and markets helping to create a booming economy and a new middle class. But we allowed development to become a bubble. We lost the self-discipline, moderation and inventiveness..and we succumbed to political expediency, delusions of grandeur and a fatal sense of entitlement.

…Maybe when the volcano rumbles, when the thugs come for our neighbor, when a society gives up the fight for progress, the familiarity of our routines numbs us to the dust and roar of the coming stampede. Maybe we do not think bad things will happen to us.

Maybe that's what the people of Constantinople felt before it fell to the Ottomans in 1453, or the Greeks who were swept out of Asia Minor in 1922, or the innocents sucked into the civil war of 1946-49. What I want to remember from Greece in 2012 is how laziness and years of intellectual sloppiness can waste the gift of freedom and leave open the gates of the city — how we allowed our leaders to pander to us until we had no one capable of leading us, no one next to us at the barricades.
In many ways, the situation we face in India today is eerily similar to what Nikos describes above..India's future our growth, prosperity and freedoms are by no means assured. Neither is there a guarantee that we will be able to realise our potential and make this century, India's century..We have a fighting chance to make that happen - but equally a guarantee that it will not – if we opt for indifference, apathy and business as usual. What is happening in Greece is a sobering reminder that nothing in the life of a nation is inevitable..
It is time for all of us to think hard – and then act. Unfortunately "thinking hard" is a habit that most of us have managed to ignore – thanks to our education system; thanks to the strenuous demands of our day-to-day lives and the pressure of just "surviving" in India..But thoughtless action can be worse than inaction – it could hurtle us on the path of unavoidable, long-term disaster. We need thoughtful action; thought before action. So please think hard. Think how can this situation be fixed. Think what can you do. This was more or less my message over the course of numerous meetings and discussions over the past few weeks.
I noticed a few more things; some hopeful; some that led to despair..but I came back feeling a bit more positive, definitely more energized and more confident that we can bring change.  My dream of "Reclaiming India" is stronger than ever. To round off, a short extract from an interview in NaiDunia (A major Hindi newspaper from Indore) and a few quick high-level observations (following the extract). Comments and thoughts, welcome as always..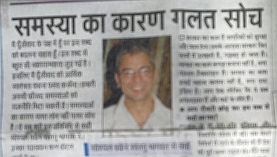 मैं पूंजीवाद के पक्ष में हूँ पर इस शब्द को बदलना चाहता हूँ| इस शब्द से बहुत सी नकारात्मकता जुड़ गई है|
इसलिए मैं पूंजीवाद को "आर्थिक स्वतंत्रता" कहना पसंद करूंगा| हमारी अस्सी फीसदी समस्याओं को राजनीति मिटा सकती है|
समस्याओं का कारण गलत लोग नहीं..अक्सर लोगों की नियत अच्छी होती है..पर सोच गलत होने से नतीजे नहीं निकलते|
इसलिए मैंने सोचा की सोच बदलूँगा| यह (जो मैं कर रहा हूँ) एक प्रकार से जन-जागरण है| गलत नीतियों के बारे में बताना भी तो एक किस्म का जागरण ही है..
Noticed a lot of organisations and citizen-activism centred around local area development/improvement especially around "greening projects", rain-water harvesting, traffic management and other civic issues
There is still (unfortunately) a fair bit of latent socialist thinking – especially in smaller cities – even among otherwise well-read and educated people of a certain age; Interestingly (and hearteningly!) young professionals, students and political activists appear to be more open-minded (& less rigid) in their approach.
There is growing realisation that LokPal alone will not solve the problem of corruption
I felt inflation has over-taken corruption as being the biggest worry on everyone's mind –  cutting across economic status
External confidence has definitely been shaken by recent developments (including moves to impose retrospective tax, review of double tax treaties) and inaction/policy paralysis at the highest levels
I heard from 3 different people (and in 3 different cities) that RTI has slowed down decision-making and bureaucrats are weary of taking bold decisions – partly due to political uncertainty and the "fear" of RTI
During the course of these 2 weeks, I had a number of fairly intense meetings and discussions in Ghaziabad, Pune, Bengaluru and Indore. Will share some slides and video snippets in the days to come. For now, here are some pics
***

***
Related Posts: Cups of Tea & Living in Hope, Notes from the Road & A Thought for 2011
Life in the slow lane, "empty nesters" & self-confidence… and 3 States, 4 cities, 20+ hr workdays…