De-Hinduisation of Kalakshetra?
12 May 2012
896 views
11 Comments
Please see this images below (courtesy Radha Rajan-ji)..No comment is needed, I think.
This image shows the logo and the letter-head of the Kalakshetra Foundation once upon a time; notice the images of Ganapati and Sanskrit verse…
…this subsequently morphed into…
..and finally to what you see below; shorn of all "non-secular" imagery…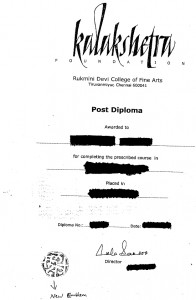 **
And in case you are wondering why does this matter (courtesy, Radha Rajan; emphasis added)..
…(these violate) something fundamental to classicism – the essential Hinduness, particularly the bhakti that inspired classicism and inspires continuing adherence to the tenets of classicism in our Sanskrit and Tamil literature and classicism in our arts and performing arts – Carnatic Music, Bharatanatyam, Kucchipudi, Odissi, Mohiniyattam and Manipuri – bhakti or worship.

The building of our temples and the sculptures enriching them are also infused with classicism and therefore infused with bhakti. It follows therefore that if one has to understand Carnatic Music, our classical dance forms, our temples and temple architecture and sculpture, either with a sense of creativity or intellectually, the person must understand bhakti – not superficially and not as a practioner of the abrahamic faiths, but as a Hindu; the person may be an Indian or a non-Indian Hindu but he or she must be infused with bhakti and respect for bhakti to understand classicism.

I have to be worshipful if I have to express the classicism inherent in our performing arts and in our classical literature.

An irreverend mind which is incapable of worship or bhakti, can only produce sterile and soulless creations of Hindu themes. Classicism is also God-centric and does not touch upon human themes except as bhaktas. …The objective of classicism is to elevate the Hindu mind to God through bhakti.

…Bharatanatyam rooted in Bharatamuni's natyasastra, was preserved in our temples by our devadasis. Hindus owe our devadais a great debt of gratitude that notwithstanding their difficult lives, they nurtured and preserved this great art form. And because this was nurtured by our devadasis and because this was performed in our temples, bharatanatyam and the music that gave it its soul and rhythm retained its bhakti and religious fervor even in difficult times.

…Adi Sankara realised the dangers of emphasising abstraction over worship of murtis and ascetism over sringara (the worship and celebration of the beautiful) in advaita and that is why he composed the saundarya lahiri. that is why he sang of Sarada and Annapurna and Shiva. Abstraction is breathtaking but murti worship is elevating. Abstraction is best reached through bhakti and not through the intellect.

…The Besant School started and run by George Arundale and the KFI school started by J Krishnamurti also with Theosophist roots all suffer from the same malaise – the abstraction and eventual erasing of hinduness in their thinking, the institutions they create, their writings and their speech. They are not anti-Hindu in the beginning; they are merely the abstract expression of theosophy and perhaps Buddhism and even some esoteric aspects of Hinduism. But they eventually become anti-Hindu because they partner the explicitly anti-Hindus and non-Hindus and despise those who are angered by the gradual de-hinduisation of their understanding and interpretation of Hindu arts, literature and texts.

It is this perversion which has given rise to Yoga is not Hindu, Meditation is not Hindu, Om is not Hindu, Ayurveda is not Hindu and now Bharatanatyam is not "swaroopa" Hindu but "aroopa" Hindu. It is also the beginning of Deepavali is secular, Navaratri is secular, Pongal is secular and other idiocies. They want the Hindu frills without the Hindu content.

Leela Samson when she stated that she only removed the 'swarupa' symbols of hinduism from Kalakshetra in the true spirit of Rukmini Devi's theosophist spirit, was speaking the truth and the whole truth. The abstraction and diminishing of worship of Hindu Murtis began in Rukmini Devi's mind. You see this in the children coming out of Krishnamurti schools, you see it in the composition of students learning the performing arts in kalakshetra now under Leela Samson. what Jiddu krishnamurti spoke was the essence of Vedanta and he invoked the enquiring mind so typical of the best methods of Hindu learning in our Guru-Shishya Parampara and gurukulams of our rishis but he disdained to call his thoughts or its articulation Hindu.

…Hindus must know and understand the causes for their degeneration if they have to put these people in their places.
It is not enough to wear the Mayilkann Veshti and Angavastram when you sing an ode to Leela Samson, it is not enough to wear elegant silk and diamond earrings as expressions of refined Brahminical culture when you express disdain for Brahmins and all that they represented, it is not enough to wear long thin red bindi like the Srivasihnava women simply as a fashion statement if your heart does not melt when you worship that Murti. If you cannot bring tears to my eyes when you dance or sing you have to be reborn again and again and again if you have to attain the fulness of MS Subbalakshmi or Palaghat Raghu.
P.S. I wonder how many of you know that Leela Samson at one point headed three important bodies – all at the same time – where the appointing authority is the central government..Kalakshetra, Censor Board of India and Sangeet Natak Academy. Is it really so hard to find capable women and men for these positions?
Related Posts: Baba Ramdev goes politically correct, the missing "H-word" and the ridiculous extremes of pseudo-secularism;