I could not believe this piece of *news* when I first read it..You may not too. Thanks to Sh Krishen Kak and Dr Kalyanarama-ji for alerting me to this. Pl have a look at the image below: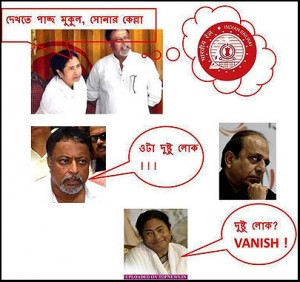 The 'cartoon' that led to JU professor's arrest. From top to bottom: 1. Mamata Banerjee points to Indian Railways' logo and tells Mukul Roy: "See Mukul, the Golden Fortress"; 2. Mukul Roy points to former railway minister Dinesh Trivedi and exclaims: "That's an evil man!!!"; 3. Mamata says: "Evil man, vanish!"
Apparently, this "image" – or to be more precise circulating this "image" via email has landed a person in jail.
Professor Ambikesh Mahaptara of Jadavpur University was arrested this morning (Fri) for forwarding derogatory cartoons about West Bengal Chief Minister Mamta Banerjee.

The cartoons are based on Sonar Kella, the famed movie by Satyajit Ray, showing two peple in a dialogue. The mail forwarded by Professor Mahapatra allegedly shows Mamta Banerjee and Mukul Roy, Central Railway Minister of plotting together to get rid of former Railway Minister Dinesh Trivedi. The professor is supposed to have forwarded the mail to atleast 65 people.

…"Professor Ambikesh Mohapatra has been arrested for spreading derogatory messages against respectable persons," said Sujoy Chanda, Deputy Commissioner of Kolkata, without divulging the names of those who are supposed to have been defamed. Subrata Sengupta, Professor Mahapatra's neighbour has also been arrested…reports state that in retaliation to this (i.e. "spreading derogatory messages"), he was (also) attacked by workers of Trinammol Congress, as he returned home from work.

The chemistry professor..has been booked under Section 66 of Information Technology Act, 2000 and Section 500 of Indian Penal Code, which mounts up to punishment for defamation. [link]
There is no doubt that the Professor has been arrested although the charges are not yet clear.
…Police sources say Subrata Sengupta, a neighbour of Mahapatra, has also been arrested. Among the charges slapped against the two are some sections of the IT Act. The cartoon in question has been doing the rounds in West Bengal after Mamata forced Trivedi out of the rail ministry and put Roy in his place. Apparently, the cartoon is a caricature of Satyajit Ray's detective masterpiece on celluloid Sonar Kella. The police have come to know Mahapatra has sent the mail to about 65 people. However, it is not yet clear what are the charges that the police has slapped against the professor. [link]
This NDTV clip suggests that he was arrested for insutling the modesty of a woman, humiliating women, defamation and sending offensive messages through a computer. He has since been released on bail and apparently after writing a "letter". Unbelievable, right? If you share my outrage (and I do hope you do), please share this post/ link with all your friends and family…Make sure this is widely read..and make sure that Didi understands that India has moved far beyond censorship.
P.S. At least some of you may remember Mamata-Di's recent move to "limit" the number of newspapers in state-libraries. So much for "Poribartan".
IMPORTANT: I am waiting for independent verification of these reports. If it turns out that the Professor was *not* arrested for sharing/spreading this image, I will delete this post and publicly apologise on this  blog to Mamata Banerjee and Trinamool Congress. As of now, I am standing by this post.
By the way, defamation laws are a major "risk" in India. To understand better, please read: On Scandalous Information and "high-profile" people
Somewhat Related: Retiring to become an Imam in Paschim Banga*.. and On Blogs, Comments, Liability and Being Sued
Images Attrribution: Professors's photograph, courtesy IndiaWires; "Cartoon" courtesy, BharatKalyan97