This post was finally triggered by this tweet from Bibek Debroy:
Is it true that anti-govt tweets are being censored/deleted?
Now, I am not sure whether this is actually happening or not (would not surprise me)…but in the spirit of being fore-warned = fore-armed etc., here are a few tips and suggestions…
In case the page on facebook goes down or you are unable to view particular posts on the blog, please go to the Home page at http://Satyameva-Jayate.org/
There is a mirror site at http://bshantanu.wordpress.com/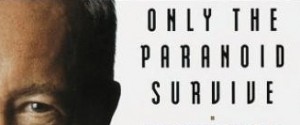 While at this, please take a moment to subscribe to the weekly newsletter list (this sends an email with links to posts from last week)
And please remember to check twitter for any updates. Worst case, you can always email me at JaiDharma@gmail.com
Image Courtesy: Andrew Grove's 1997 bestseller: Only The Paranoid Survive
Related Tweets and Posts: "Like China, we will block all such websites"
On Scandalous Information about High-profile People" and Communal Violence and Hate Propaganda
Freedom of Speech according to Hon Sh Sibal
On Blogs, Comments, Liability and Being Sued
P.S. In a judgement regarding MF Hussain, the Delhi High Court remarked that "a painter has his own perspective of looking at things and a difference in perspective could not be the basis of initiating criminal proceedings against him.". I wonder if the same "protection" is available to bloggers.