In which some people are more "equal" than others
25 September 2011
825 views
34 Comments
..or The Great Joke that is Indian Media – Part XVI !
Please have a look at the two images below…They refer to news-reports of certain politicians implicated in a crime. They are both from the same newspaper and are fairly recent (one from yesterday; another from a few months back). Notice anything strange?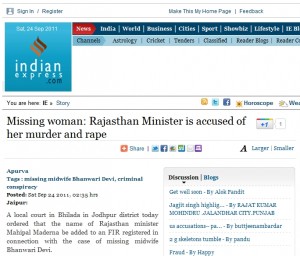 Source: Missing woman: Rajasthan Minister is accused of her murder and rape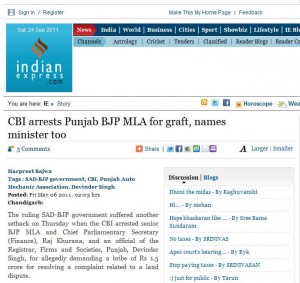 Source: CBI arrests Punjab BJP MLA for graft, names minister too
I would like to think that the curious omission of the name of the political party to which the Minister belonged is just an inadvertent oversight and not the result of some editorial diktat.
OR (perish the thought) are some people – and political parties – more equal than others?
P.S. How many of you noticed the "tags" on the 2 reports? Why should it matter? Think search engines!  In practical terms it means that a "search" with the tags "congress" and "minister" and "arrested" is unlikely to throw up the first link…
P.P.S. Another trivia: guess the party affiliation of the Chief Minister mentioned in this report: Former Sikkim CM Bhandari Jailed in Graft Case.   Astonishingly, just a  month before Bhandari's arrest, the current Chief Minister of Sikkim had offered to name the government college in Sikkim after his name!
"Our government has been honour our former leaders and recognizing their contribution to Sikkim, we have been naming the government infrastructures after them. If former Chief Minister Nar Bahadur Bhandari gives his consent, we will name the government college at Gangtok after his name", said the Chief Minister in his address during the 197th Bhanu Jayanti celebrations held at Kyongsa near Gyalshing.
Related Posts: Of high-voltage jolts and spellbound cadres – UPDATED
and the entire series: Part 1, Part 2, Part 3, Part 4, Part 5, Part 6, Part 7, Part 8, Part 9, Part 10, Part 11, Part 12, Part 13 and Part 14.