Just spoke to the brave parents of Captain Saurabh Kalia, Kargil's first war hero…It was a truly moving and humbling experience..
As many of you would know,
On May 15, Lt Kalia along with five jawans – Sepoys Arjun Ram, Bhanwar Lal Bagaria, Bhika Ram, Moola Ram and Naresh Singh – had gone for a routine patrol of the Bajrang Post in the Kaksar sector when their patrol was captured by the enemy.

They were in their captivity for over twenty-two days and subjected to unprecedented brutal torture as evident from their bodies handed over by Pakistan Army on June 9, 1999. The postmortem revealed that the Pakistan army had indulged in the most heinous acts; of burning their bodies with cigarettes, piercing ear-drums with hot rods, puncturing eyes before removing them, breaking most of the teeth and bones, chopping off various limbs and private organs of these soldiers besides inflicting all sorts of physical and mental tortures before shooting them dead, as evidenced by the bullet wound to the temple [link]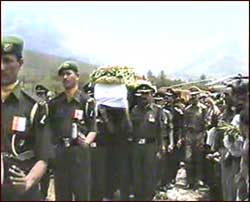 Numerous letters by Capt Kalia's father and others have failed to move the government to pursue the matter in international fora and declare his treatment as a war crime. In disgust, Dr N K Kalia has been forced to say:
I am ashamed of being an Indian. The country has spineless leaders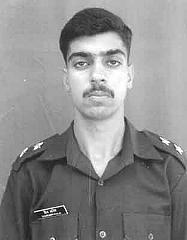 I am awaiting further details from Dr Kalia about what can be done by all of us who feel strongly about this…In the meantime, please take a moment to remember him and other who never came back..and please take a moment to sign this appeal.
Related: The Heroes of Kargil and "Saluting Our Heroes: The Param Virs of Bharat"