Dear All: Opening this thread to discuss Mumbai blasts…
I'm still trying to collect more information and put the pieces together (motive, suspects etc). In the meantime, latest reports suggest 8 killed in 3 separate blasts..Will update this as and when I get some time and fresh information..In the meantime, please share your thoughts and comments below...(pl keep it civil, polite and no blanket abuse please; no personal attacks either; also look at my comments policy under "Disclaimer" if you have not already done so).  Please spare a moment to remember the innocents who were killed and the many who were caught up in this..My prayers are with their families..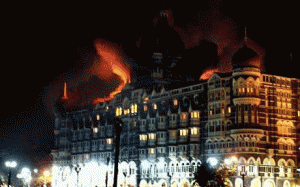 *** Update at 11pm IST (13th July '11): 21 dead(?); 100+ injured. Still no clues about the group(s)/individuals behind this.
Meanwhile Obama described the blasts as "outrageous attacks". Do you remember the last time an Indian politician used such strong words?
Meanwhile friends of Pakistan appear to have undertaken an early-damage control exercise in case the finger of suspicion does point to a "neighbouring" country (in this context, pl read: "We know its Pakistan but we hope its not!"). Good night all. Stay safe wherever you are…and have faith. We shall overcome.
*** Update at 9am IST (14th July '11): Pl see my comment below. Pl contribute links and share thoughts via comments section below. Thanks.
Related Posts under Terrorism in India including: Open thread on attack in Varanasi* , Another year, another anniversary – "Kuch nayee baat batao yaar"* , Pearl Harbour, 26/11 & Another Day of Infamy..
Pre-drafted, cut-and-paste statements begin:
President Asif Ali Zardari, Prime Minister Syed Yousaf Raza Gilani, the Government and the people of Pakistan, have condemned the blasts in Mumbai and expressed distress on the loss of lives and injuries.
The President and the Prime Minister have expressed their deepest sympathies to the Indian leadership

Vice-President Hamid Ansari condemns the attacks.
"He expressed deep shock at the scale of the attacks..He said that such terrorist acts are aimed at destabilizing the nation and urged all citizens to unite in this critical hour.