Dear Friends: Many of you reading this must have already heard of Nisha Singh, a fresh, young candidate who is contesting the upcoming Municipal Elections in Guragon . I first heard about her on a facebook post, courtesy my friend Alok Mittal. I t hen realised that she and I shared something else in common (other than a shared passion to work for "good, clean politics" in India) – we were both alums of the London Business School (now ranked #1 worldwide for its MBA!) I was impressed by her clarity of thought and purpose and I reached out to her a few months ago requesting an interview for the blog…She was gracious enough to take time out from her pretty hectic campaigning to respond to these questions. Without further ado, read Nisha's thoughts and perspectives on some of the *live* issues we are facing today..
*** Interview Begins ***
Q. What is your stance towards economic reforms?
As we all know, India's GDP has grown dramatically since 1991 – with the dismantling of "license raj".  During early 90s, the focus was on opening India's markets to imports and foreign investments. Industrial growth has contributed to most of the GDP growth. We have seen industries such as telecom, BPO sector and IT flourish. Lot of foreign investments flowed in these sectors and has been used very efficiently.
On the other hand, we have very little reforms and growth in the Agricultural sector. Several issues such as over-regulation, agricultural subsidies need to be addressed. We need to devise policies that will encourage increased productivity – allow larger holdings, provide skill-based education and training for the farmers, use of modern technology, better irrigation facilities etc. Even with the increased urbanization in recent years, we still have majority living in rural areas – and in poverty – so, it is important for us to focus on improving rural economy. Also, our investment in infrastructure, health and education has not been sufficient to ensure the GDP growth sustains.
Q. What is your position on campaign finance? Corruption in elections/ vote-rigging?
I think India has a history of too many campaign related malpractices. One of the issues raised by many prominent individuals is about how low the upper-limits on the campaign spending are. It is important to have some kind of limit – but it should be a realistic one – to prevent wastage in our country. Election Commission has recently increased these limits – this is a good thing in the right direction. More important than the limits is transparency in how funds are sourced and how they are spent.
A two-pronged approach to the corruption problems may be a more effective solution. Top-down – meaningful laws – structure for enforcing the laws – and timely resolution on cases.  Bottom-up approach where citizens take active role in contributing to the campaigns of the candidates they support.  Currently, there is such a mistrust of candidates that people without vested interests are reluctant to donate to the campaigns. Such mistrust prevents eligible and honest people to contest elections unless they have already amassed or inherited wealth.  We need to think of ways to break this cycle and to build trust – to ensure we have better representatives in the government.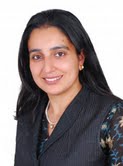 Q. What are your views on reservations in education, jobs, promotions, private sector (and reservations on the basis of caste, religion, socio-economic measures?
For generations in India, people have treated castes and religions to be one of the top priorities. With increased education, increased urbanization and increased opportunities in private sector, the importance of caste and religion to one's own standard of living has been decreasing. This is a good trend – and I would really like to see such trend continuing.
Reservations in education and jobs for many decades have indeed helped uplift the down-trodden – but still not enough. The target of reservation should be to create a situation where reservation itself becomes unnecessary. We definitely haven't reached such situation yet – we need to look deeper to understand the impact of reservation on the beneficiaries, we need to analyze why we haven't made the expected impact so far and find ways to bridge the gaps. Perhaps more sensitivity training needs to be incorporated in schools – and more skill training provided to the youth among the caste that really need additional support from the society.  I don't think blindly continuing with the reservation for many more decades, or simply eradicating it will bridge this gap. We need to put our heads together and design supplemental programs – not necessarily run by the government. They could be sponsored by NGOs, trusts and the community leaders themselves.
Q. Views on taxes – should there be an infrastructure tax?
Taxes are, of course, a necessity for the functioning of a country/state. What is important is the judicious spending of the tax-payers money.  In India, the level of corruption and inefficient use of taxpayers' money are the big issues. For example, Home Minister P. Chidambaram recently admitted in Davos that in road construction, 50 per cent of the funds are misappropriated. It is a similar story in most other government spending.
Q. Views on the parallel economy: how do you see the problem and how would you deal with it?
There is a thriving black economy in our country in almost every sector. Stricter measures are required to punish the offenders. But minimal is being done due to lack of political will.
Only way to deal with this is by serious investigation and prosecution of the offenders in a timely manner. An effective Lokpal Bill with huge public support and vigilance can be a good start to prevent parallel economy from growing.
Q. Views on "criminalization" of politics and views on banning people with criminal convictions from standing for elections?
Of course, people with criminal convictions, even if their appeal in the higher court is pending, should be barred from standing for elections until after their sentence is completed or they are acquitted.
I think the bigger issue is really the dearth of candidates on the ballot with clean background.  There are many candidates who do not have criminal convictions; but strong public perception would be that they have indulged in illegal and unethical activities – corruption, irregularities in the dealings, relationship with various "mafias" etc – and gotten away with it.  Voters need to effectively "ban" such people from elections by defeating them consistently.
Q. What is the single biggest problem in Indian politics today? Is it corruption? Criminalization? Lack of competence? Fragmentation of electoral base – along casteist, religious, regional lines? Something else?
All of these are big problems. If I have to point out only one, I would say it is the fragmentation of electoral base on caste, religion or region. Such fragmentation often prevents honest and competent persons from getting elected. Many voters are strongly influenced by these factors – and overlook the competence of the candidate. Some voters even overlook criminal background of a candidate if he belongs to their caste.
Q. What is the most important "social" issue facing our country today?
I think lack of adequate education and training to country's youth among poor is the most important social issue.  Even after 60+ years of independence, India's literacy rate is dismal. We need to find ways not only to encourage children to stay in school longer, but we need to provide vocational training. The government-run schools have been incapable of addressing this issue to sufficient extent.
I see public-private-partnerships to be one of the ways to tackle this issue.  We can't eradicate poverty without education – and we cannot see children staying in school without eradicating poverty. This has become a vicious cycle – and we need to stop it. We should look into opening more evening schools for the children and young adults who have a dire need to earn for their basic needs. We need to do this now more urgently than ever to prevent our "demographic dividend" from becoming "demographic disaster".
Q. what is the most important "economic" issue facing us today?
I think one of the most important economic issues we face is lack of strong rural economy. We need reforms in agriculture sector as well as related industries around rural economic centers. To ensure we can continue to feed our huge population, we need policies to enhance agricultural productivity – to encourage the use of modern technology, better irrigation and better techniques. When the rural economy stays strong, there would be less emigration to the urban areas and the cities can be better managed as well.
*** End of Interview ***
Please share this with your friends and relatives in Gurgaon – more importantly, please ask them to vote for and support Nisha in whatever way they can…Nisha is one of the pioneers in the movement to cleanse politics in India – and a very deserving candidate for the elections in Guragon. Let us try and make sure she wins..Jai Hind, Jai Bharat!
Related Posts: Interview with Deepak Mittal, "Jago Party" and Please also read Interview with Ujjwal Banerjee and Interview with Geeta Gokhale, BPD