As another young girl is gang-raped in Delhi, is it not time to drastically overhaul rape laws that currently provide for a maximum of 10 years of imprisonment in rape cases?
Should the maximum penalty for a rape not be increased to a death sentence? What is the most appropriate punishment for a person convicted of rape? Please share your thoughts and views below…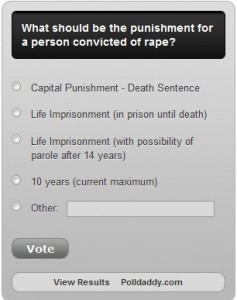 ***
***
My vote goes for capital punishment. I believe we need to make it emphatically clear that crimes against women will not be tolerated.