Amidst the muck and the dirt that has come to surface in the last few weeks, I am sure I am not alone in thinking, where are we headed?
Is this the India that aspires to be an economic powerhouse? a permanent member of the UN Security Council, one of the world's largest economies and a shining example of a successful democracy? or is this the India that is condemned to forever remain a "third-world" country, where glitzy high-rises sit cheek-a-jowl with degrading poverty, where food rots in storage even as half of young kids are malnourished, where elected "leaders" brazen it out when suspected of siphoning off public money – an India that is typified by a "Chalta-hai" attitude and "Usse Kya farak padega?"
This is the India where a Minister says this on the issue of corruption:
Don't become so sensitive..and don't threaten to disrupt the proceedings of the House over this..
…where a petition to investigate the charges of fraud in the context of CommonWealth Games attracts less than 200 signatures even after three days of relentless emails…where a retired central vigilance commissioner has this to say about corruption:
…society is no longer seriously concerned about corruption and there is social acceptance.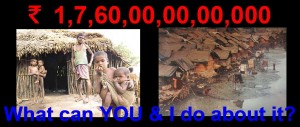 …where, in the biting words of M J Akbar
Greed is the new religion and all are welcome to feed at the trough.
where
…There is no shame left…
and where, in the words of Guru Nanak-ji whose anniversary we celebrate today,
Decency and righteousness have vanished, and falsehood struts abroad…
As MJ Akbar puts it…
It is tempting to ask whether there is an India left when most of its ruling class has abandoned every principle in its composite, vulgar commitment to theft…
…where an "Adarsh" follows a "CWG" that followed a "spectrum", which followed a Koda…with an aviation scandal thrown in between for good measure…And how far back does one go? 90s? 80s? Bofors? An entire generation has grown up having no clue what "Bofors" was and what it meant…As Dr Kalayanaraman-ji wrote,
In a scam-ridden land, led by chamcha-giri..Who cares?
Show us "You Care"
Join the online discussion on The Roots of Corruption – and What can YOU and I do about it? This Sunday, 28th November @ 630pm IST. Make sure you are there…make sure your voice is heard…Make sure you speak up…because ALL IS NOT WELL…It is actually desperately not well. Join us for the the online chat jointly hosted by || Satyameva Jayate || and the Indian Army Fans on Facebook coming Sunday. Make sure you are there. 
***
***
Jai Hind, Jai Bharat!