*** CAUTION: Not Suitable for Children and May Not be Suitable for Workplace Viewing ***
About 10 hours ago, late afternoon yesterday, Times of India published an article headlined, "Incest: Haryana's shameful social heritage" by Sukhbir Siwach.
Most of you probably missed it…I did too…until I was alerted to it by centerofright. The article talked about disturbing incidents and reports of incest in Haryana and appeared to suggest that this practice was widespread in rural Haryana:
These are not isolated incidents: incest is reportedly a real part of life in rural Haryana
It had comments and quotes from about half-a-dozen different people – ranging from students and social activists to Khap leaders and bureaucrats highlighting the problem. If true, this is very worrying and the incidents and the reports need to be seriously probed…I wish the National Commission of Women takes cognizance of some of these reports to initiate an inquiry and take appropriate action.
But it is not incest I wish to discuss in this post…What had caught centerofright (and others) attention was this last paragraph in the report:

..and no it was not just the fact that it was a needless insertion…More surprisingly, it was lifted straight from a Pakistani forum: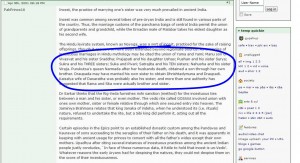 I suspect most of you are pretty upset and angry at this point…But rage and anger will not get us very far.  We need to react – but in a coordinated, organised and civil way – i.e. by writing a complaint to the Editor of  Times of India – and making others aware of this.
So my humble request to everyone who has been offended by this piece is: Pl share this article amongst your friends and acquaintances and – MORE IMPORTANTLY – please ask them to send in a complaint to the Editor.
I intend to follow-up on my complaint with the Press Council if there is no response. I suggest all of you do the same. Below is the text of my complaint to the Editor:
Dear Sir/Madam, I am appalled by the gratuitous reference to "details of incest, (in) our own epics and mythological texts" in your article titled "Incest: Haryana's shameful social heritage" by Sukhbir Siwach, published Aug 28 '10, 0205pm IST.

Not only are the references grossly offensive, misleading and inaccurate, they also seem to have been copied and pasted from an online anti-India discussion forum.

I would be grateful if you could issue an erratum and an apology for needlessly hurting your readers sentiments and beliefs. Thank you.
Please feel free to modify/alter the above text to share your own anguish with the folks at ToI. At some point soon, I hope to draft a proper response to the references in the last paragraph…In the meantime, please do read Sandeep's excellent commentary on "Symbolism and Literalism" that talks about Brahma and Saraswathi (briefly referred to here as well).
Thanks to Panchjanya for documenting this incident and bringing this to our attention.
P.S. The procedure for making a complaint to the Press Council is documented here. It clearly mentions that:
It is a requirement of the Inquiry Regulations that the complainant should initially write to the editor of the newspaper drawing his attention to what the complainant considers to be a breach of journalistic ethics or an offence against public taste.
So please do write to the Editor at Times of India first – and please share any replies/response you receive on this thread. Thank you.