Open Letter to Rahul Gandhi from a "not-so-Aam" Aadmi*
19 June 2010
3,093 views
47 Comments
Dear Rahul,
First of all, please accept my warm wishes on your birthday.  Many Happy Returns and may you have many healthy and peaceful years ahead of you.
Today – as you turn 40 – must be a special day for you. I felt it was also an appropriate day to understand your thoughts and get your answers to some questions that have been troubling me for a while.
Like most of our fellow citizens, I have been watching your trajectory over the past few years with interest. I remember the sense of sympathy I felt watching you on TV when you lost your father. I had a strong interest in politics even then but I would have found it hard to guess that someday you might be a PM-in-waiting (With hindisght, that should not have been a surprise).
So while I understand that you may be a reluctant leader, as someone who is widely tipped to be a future PM – and is revered by his party (which also happens to lead the current coalition), I believe you have certain responsibilities towards people like me – who often wonder about your background, your entry into politics and your views on matters of critical importance – as well as your ideology.
Unlike you, I am not a reluctant entrant into politics. Neither do I share your privileged upbringing..or pedigree..or smooth entry into the corridors of power.
However I do share one thing with you – and that is being blessed with good fortune. Being blessed enough to be where I am today. Being blessed enough to have the "luxury of thought". Being blessed enough to have the opportunity to give a little something back to my country and my people who have made me what I am today.
Unlike you though I have a VERY long way to go to get anywhere near a position where I can make a difference…but I do hope that our paths cross some-time. They almost did a decade ago (while you were at Monitor Co. in London)…and I do believe in divine conspiracies.
But this post is not about crossing paths or divine conspiracies. It is about some questions that have been nagging me (and I am sure many others) for quite a while. As the widely read and respected Sh Pratap Bhanu Mehta wrote yesterday:
You can add to this mix the curious phenomenon of Rahul Gandhi. His attention to the party and building a democratic youth cadre is important. But those experiments will generate more skepticism if they do not have any tangible results for transparency in the relationship between party and government. If the Congress cannot solve its internal coordination problems, what confidence will it inspire that it can negotiate the thicket of new social conflicts about to arise? It is very hard to make the case that there has been a visible improvement in the functioning of the Congress party on any issue, whether it is the distribution of Rajya Sabha tickets, or its ability to come clean on its own past.
You may wonder what my locus standi is in asking you these questions. Well not much beyond a concerned citizen of India, a fellow political activist (if I may use that term for you) and someone who will be deeply affected by the decisions that you and your party (and perhaps even government) may take in the years to come.
As an "interested party", I am therefore very keen to hear your thoughts…I believe citizens have a right to know what their (present and aspiring) political leaders stand for. As a PM-in-waiting, I am sure you understand that responsbility.
Without further ado, here are a few questions that I would like to pose to you. I do hope that you – or someone who is familiar with your thoughts on these matters – takes the trouble of responding to this post. I will try and make it easy for you – and will accept an email, a letter, a fax – or even a phone call as a means to get your responses. And I will do my best to see that this letter reaches you (via email, tweets and by posting it on my blog).
Some Questions for a PM-in-waiting
Q1: Why did you decide to leave your job/work and get into politics?
Q2: What is your ideology?
Q3: What in your view – is the most effective way to curb corruption in our political system and in our administrative set-up?
Q4: What is your position on campaign finance reforms?
Q5: What is your view on "criminalization" of politics? What are your thoughts on banning people with criminal convictions from standing for elections?
Continued below…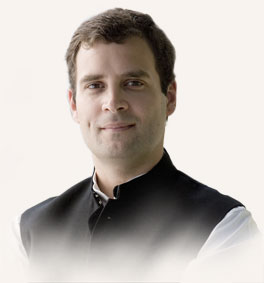 Image courtesy: Congress(I) Party Website
Q6: What is the most important "economic" challenge that we have?
Q7: What is your stance towards economic reforms?
Q8: What is your view on taxes? Do you support progressive taxation? or flat taxes? How about negative income tax?
Q9: What are your views on the "parallel economy"? How do you see the problem and how would you deal with it?
Q10: What in your view is the most important "social" issue facing our country today?
Q11: What are your views on reservations in education, jobs, promotions and in the private sector? What is your view on reservations on the basis of caste, religion and socio-economic measures?
Q12: What is your view on "hot-pursuit" across the border (when dealing with terrorists from a certain neighbouring country) given that you have publicly stressed on the need for Congress(I) party to "work for the larger acceptance of non-violence within the country and in the international community "?
Q13: Finally, what is the single biggest problem in Indian politics today? Is it Corruption? Criminalization? Lack of competence? Fragmentation of electoral base – along casteist, religious, regional lines? Something else?
Yours in the service of our nation,
Jai Hind, Jai Bharat!
* I choose this term "not-so-Aam" with care. It does not mean that I am someone special or "khaas". But in all honesty, I find it difficult to think of myself as an "Aam Aadmi" – when more than half of my fellow citizens cannot understand what I am writing here; more than that are probably too tired and in despair to think about these questions…and only a tiny fraction are in a position to do something about this. I believe we insult the real "aam aadmi" of India by calling ourselves that. The vast majority of those reading this letter do not fall in this category. As part of this tiny fraction of people, I am "not-so-Aam". You, of course are "special".
P.S. I doubt you have the time – or that you are really interested – but in the off-chance that you do, here are my thoughts on some of these questions…There is a lot more that can be gleaned about my personal ideology and inclinations from this caegory of posts.