Kamakhya, Brahmaputra and A Monsoon Outreach
20 May 2010
505 views
15 Comments
or…Changing India – Step IV
In a few days' time, I will be making my way to the land of seven sisters…one of my favourite regions of our beautiful country.  I will arrive with the Monsoon…but am looking forward to return with rays of hope in my heart. This is going to be anything but a tourist trip…Over the span of several days, I will be spending lots of time trying to get a better and deeper understanding of the region.
The north-east has long been an ignored part of India. It rarely features in the national media (except for calamities and terrorist attacks). Most Indians have never visited the region. Very few have friends who belong to this stunningly scenic land. And embarrassingly, many would find it hard to even name the "Seven Sisters".
The reasons are many and varied. But that is not the point of this piece.  Whatever the reasons, there really cannot be an excuse – in this day and age of air-travel and convenient connectivity – to ignore a region that is not only a wonderful manifestation of the diversity of India, but an area of enormous strategic significance.
My long-overdue visit is a tiny and humble attempt to clear the fog of indifference about north-east that shrouds our socio-political discourse and dialogue.
This visit is a modest outreach effort to get more amongst "us" interested in the region – and to get more of our fellow citizens in the region interested in "us" – "us" as in (loosely approximated to) upwardly-mobile, urban, middle-class Indians living in Tier-I/Tier-II cities for whom "North-East" may be somewhere beyond Kolkata.
It is a modest attempt to bridge a gap – a gap that sometimes appears so wide as to almost feel hopeless to bridge.
But I am born optimist – and I believe the gap can be bridged – the region and its people can get their rightful share of attention and resources…and they can be made to feel proud about being "Indians", not just Nagas, Manipuris or Assamese.
Continued below…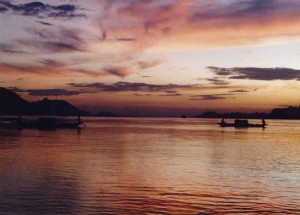 Image Courtesy: Deepraj at Wikipedia
I am hoping to meet a cross-section of people on this visit. The final itinerary is still being worked out (please let me know if you can volunteer to help me plan this) but I would like to request all of you to please share any thought/ideas or suggestions you may have about whom I should meet and where I should go. I may not have enough time to meet everyone I want to meet and be every place I want to be..but I will do my best.
My aim from this visit is two-fold:
raising political consciousness amongst youth/students and professionals in the region and
getting a first-hand understanding of the problems and challenges of this beautiful land.
In the process, I hope to find some clues/answers to the following questions:
How do the people of north-east relate themselves to other parts of India?
What is their response and thinking on the calculated plunder of the region by "vested interests"?
How keen are they to bring about change in the north-east?
How do they see their role in reforming India?
I am hopeful about this small but sincere attempt to bridge the yawning gap – and the disconnect – between the region and the rest of India. But I need your help to make this happen.  If there are groups/associations/people you would want me to meet while I am there, please leave a comment on this post or email me at jai.dharma AT gmail.com
Pl. do share this with your friends from north-east and those who live there and/or do ask them to get in touch with me.
I am looking forward to this visit…and I shall keep you updated on what I learn. Stay tuned.
Related Posts:
Quick Notes from Indore – Part II
Next parts in the series:
Notes from North-East: A worm's eye view
Notes from North-East: Conversion at gun point?
Notes from North-East: Indigenous Cultures, Demographic Invasion