…Or Part II of Should foreign funding for religious institutions be banned?
In my earlier post on the subject of foreign funding for religious institutions in India, I posited that these funds and proselytization is affecting communities and slowly turning the liberal, tolerant and welcoming ethos of India into a rigid, intolerant culture.
In this post, I will examine the influx of Saudi petro-dollars in India and its influence on propagation of a particularly rigid Wahhabi ideology amongst Indian Muslims.
Although it is widely known and accepted that large amounts of petro-dollars find their way into Islamic organisations in India, almost no records exist of these transfers. That may perhaps be because most of these transfers take place via irregular channels & hawala transactions and/or in unaccounted money.
My guess is that a significant part (if not the majority) of these funds go towards disseminating a violent ideology and sponsoring Jihadi activities.  Astute observers for example, have noted how Lashkar-e-Taiba was nurtured by Saudi money. And this is being repeated elsewhere in the world.
The Saudi assistance to Madrassas and local Imams has also been noticed (and commented upon) by others:
Important fronts in this (Saudi) campaign are in south and southeast Asia, where the majority of the world's Muslims live. In Pakistan, Indonesia, the Philippines, Malaysia and southern Thailand, Wahhabis have co-opted (or replaced) village and neighborhood imams, and there is a fresh stream of converts returning from stays as guest workers in Saudi Arabia.

The children of poor converts are often taken to Saudi Arabia for "education" and many are returned as cannon fodder for use by Wahhabi terrorist fronts.[18] In India, efforts are underway to capture a portion that country's huge Muslim minority as well as the Untouchable Caste (sic).
And this article mentions that
Sudan created a 'special fund' of more than 3,000 crores for the purpose of setting up new mosques and more madrassas in Jammu and Kashmir and other parts of India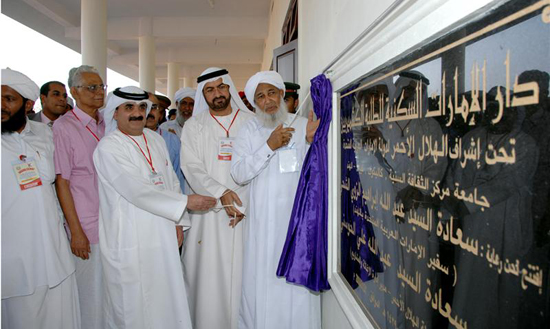 Photograph at the inauguration of an exclusive hostel for Kashmiri students in Kerala, funded by "The Red Crescent".
Here is an alarming report from 2000 on Foreign funds for new mosques, madrassas in J&K which talks about a special fund being set up by groups in S Arabia, Pakistan, Egypt, Libya and Sudan…
…(to seek) further growth of Islam and Islamic institutions and religious places in India (and)…construction of at least 40 new mosques in Jammu province till the end of 2002.
Yet, data on foreign funding of madrasas is scant. As this ToI report mentions, until at least 2002, there was no mechanism to check the receipt and utilisation of foreign funds by madrasas nor did the government have any data on it.
While doing the background research for this post, I stumbled on this report from 2004 by Ramtanu Maitra that talks about
…plans (by the Saudi royal family) to construct 4,500 madrassas in India, Bangladesh, Nepal and Sri Lanka at a cost of US$35 million, to promote "modern and liberal education with Islamic values".
Interestingly, according to the same report (cited above), China rejects all religious donations that come from abroad.
If the scale of these efforts (and the size of these funds) is not worrying enough, there is more.
In his article, Ramtanu Maitra draws the link between Gulf-based "charities" and terrorist activities.
…it has been widely accepted in India that in many countries, particularly in Pakistan and Bangladesh, Islamic militants were funded by foreign charitable organizations through madrassas. One such group, Pantech, based in Pakistan and engaged in establishing madrassas in Nepal, has been identified as an ISI front group.
and
There is compelling evidence that suggests that some, if not most, of the money spent by various Saudi outfits to spread Wahhabism ends up financing militancy and terrorism. As a result, following September 11, funds moving out of Saudi organizations to various religious institutions, including madrassas, have been monitored carefully.

Recent reports by Western intelligence sources splashed all over the media stated clearly the role of some Islamic charities, such as the Global Relief Foundation that operated within the United States prior to September 11 and was suspected of helping the terrorists against the US. Much of Global Relief's funds came from Saudi Arabia.
Another Saudi government-supported charity, al-Haramain Islamic Foundation, is now under the US Treasury Department's scrutiny. Once it operated in 50 countries, providing health care and welfare assistance, and proselytizing for Wahhabism. In March 2002, the US Treasury designated al-Haramain offices in Somalia and Bosnia as financiers for terrorists. Washington forced the Saudis to shut them down. As reports began to trickle out, it became evident that financial support to the Chechen refugees from al-Haramain, and approved by both Saudi Arabia and Russia, was in reality diverted to support the mujahideen as well as Chechen leaders affiliated with al-Qaeda networks. Subsequently, one by one, al-Haramain's branches in Africa, Asia and Europe were identified and closed. But reports indicate that al-Haramain functions undisturbed in Bangladesh.
I think most of you must have got the picture by now.
In the light of what I have outlined in my two posts, is there not a case to impose a blanket ban on all foreign funding of religious organisations in India (and before someone asks, I would extend this ban to "Hindu" religious organisations too)?
Is it not time to consider the grave implications and serious ramifications of allowing vast sums of money that flow in under the guise of "aid" and "charity" but effectively erode the essentially liberal and tolerant ethos of this country?
Is it not time to take note of this large-scale, silent and indirect – but deadly – invasion of India and attack on its roots?
Is it not time to say that foreign funds cannot be allowed to change the character of Bharat and the nature of India?
Thoughts, comments and views welcome as always. Pl. remember: keep it civil, keep it polite. Thanks. Looking forward to hearing from you.
Part I is here: Should we ban foreign funding of religious institutions?
Related Posts:
Of Saudi Arabia, Petro-dollars and Terrorism
The Increasing Talibanization of South India
and finally a thought-provoking excerpt from an article by Ramdas Lamb writing in the Washington Post:
…In early 2009, Pope Benedict XVI met the Chief Rabbinate of Israel and agreed to stop all conversion attempts directed at Jews. A month later, Cardinal Jean-Louis Pierre Tauran, president of Vatican's Pontifical Council for Inter-religious Dialogue, visited India and was asked while there if he would offer Hindus the same respect. He refused.

There is a degree to narrow mindedness in every religious tradition, but when that is coupled with fundamentalist arrogance and powerful backing, nothing good can come from it.
.