The Curious Case of Dilip Patidar*
17 March 2010
1,371 views
25 Comments
Most of you reading this would not have heard of Dilip Patidar.  I had not either.  Until November 2008, Dilip Patidar was another "ordinary Indian citizen" – or so it appears.  But since then, he has not been traceable.
Here is the sad story of a creaking legal system, a missing person and an indifferent administration (thanks to Amitabh for alerting me to this). Read on.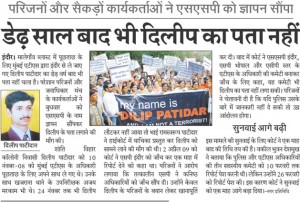 Here are the basic "facts" around the case.
Night of 10th November 2008: Dilip Patidar is taken(?) for interrogation from his rented house in "Shanti Vihar Colony" in Indore by a squad from Mumbai ATS. This is in connection with the blast in Malegaon (Sept 2008). A Sub-Inspector from Khajrana Thana accompanies him. Here is some background**:
The house in which Dilip lives (lived) is owned by Shiv Narayan (brother of Ramji, an accused in the Malegaon blast). It has been searched by police before (in October 2008).  At the time of the previous search, the police had reportedly taken a 12-bore revolver that belonged to Shiv Narayan and also one(more?) timer(s) which are typically used in washing machines and other electrical equipments (microwaves etc).  Dilip used to work as an electrician and I have been told that this timer was amongst the various spare parts he had at his house/workshop.

Following the search, Dilip was asked to sign a statement as a "witness" to the search and seizure.  This happened on October 24th, 2008.

Two weeks later, at 1am on 11th November, the police are knocking at his door again.  He is taken to Nasik by the ATS Team the same night.
24th November 2008: It has been two weeks since Dilip was taken for questioning. His family has no information of his whereabouts or any news of him. Dilip's brother RamSwarup Patidar files a Habeas Corpus (literally a petition to produce before the court) in Indore High Court seeking judicial intervention to find Dilip's whereabouts.
2nd April 2009: The petition is finally heard and the court asks the Superintendent of Police (Indore) to file a report within one month (i.e. May 2009).
17th August 2009:  The High Court directs the Maharashtra ATS to give an affidavit with details regarding the disappearance of Dilip Patidar, a witness in Malegaon bomb blast case. It fixes the next hearing for 17th September 2009.
5th November 2009: The Court constitutes a commitee comprising SP Bhopal, SSP Indore and an ATS Officer to file a report on Dilip's "disappearance". The Committee is asked to present its report within one month.
The committee is subsequently asked to present its report by 5th February 2010.
26th February 2010: The Committee presents its report. The Court fixes the next date to hear the case after a month.
Today, 16 months later, Dilip is still untraceable.
What exactly was Dilip's role in the Malegaon blast?
Looks like he was in the wrong place at the wrong time. This Outlook report suggests that "Dilip was a tenant in the house of Ramji, an accused wanted in connection with Malegaon blasts case"(sic). Curiously, this DNA Report titled, "Who's Who of Malegaon Blast" (filed before 10th November 2008) has no mention of Dilip Patidar under "Wanted".
Apparently Dilip Patidar was not the only one picked up in Indore in connection with this case. This Organiser report mentions another name – Dharmendra Bairagi. Dharmendra seems to have been "released" "when his family filed a complaint with Indore police against Mumbai ATS for illegal detention."
Dilip is 26 and the father of a 3-year old boy. His wife and son live in the fond hope that they will get to see Dilip again.
In case any of you have more information on this (or similar cases), please leave a comment with details below. Thank you.
Related Post: One night, 35 years ago…
* With apologies to F Scott Fitzgerald
** This information was pieced together from a phone conversation with a concerned person in Indore. I am trying to find more details and verify the events independently. Any help in this regard is hugely appreciated. Thank you.