From the Indian Army website:
The Param Vir Chakra is awarded for most conspicuous bravery or some daring or pre-eminent act of valour or self sacrifice, in the presence of the enemy, whether on land, at sea, or in the air. The decoration may be awarded posthumously.
*** Saluting our Heores – Captain Gurbachan Singh Salaria, PVC ***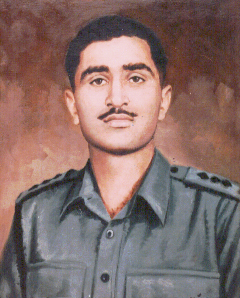 A tribute to Captain Gurbachan Singh Salaria who sacrificed his life on this date,  48 years ago.
The heroic story of Captain Salaria that I am about to share with you is probably the most unusual in this series. He did not lay down his life defending our borders…nor did he die saving fellow citizens. But – in the finest traditions of the Armed Forces – Captain Gurbachan Singh Salaria laid down his life for the honour of his men and the cause that his Army believed in. Captain Salaria, Sir, I salute you.
Late November, 1961, Elizabethville, Congo: For men of 3/1 Gorkha Rifles, the last few days have been grim. Their colleagues have come under repeated attacks by the Katanga forces. One of the senior officers, Major Ajit Singh has been taken captive…and his driver brutally murdered while on a mission to rescue UN officials. The honour of Gorkhas is on the line.
The deployment is unusual because the troops are part of the UN Peace Keeping Forces. In fact the UN operation in Congo (Organisation de Nations Unies au Congo, ONUC 1960-63) will go down in history as the mission in which the largest number of Indian troops participated.
The initial contribution has been enlarged to Brigade level comprising 1 Dogra, 2 Jat, 3/1 Gorkha Rifles, a squadron of 63 Cavalry, 4 Mahar and others.  Moise Tshombe, the leader of the breakaway Katanga province commands thousands of troops under Belgian army officers. Although a ceasefure was effected in September 1961, the situation is worsening again. The job of restoring normalcy has fallen on Indian troops.
In the days leading up to December, the Gorkhas decide to re-consolidate.
Here is what happened next (drawn from Captain Courage by Colonel Anil Shorey):
On 5th Deccember, one of the 3/1 Gorkha Rifles companies, supported by two Swedish armoured cars, decides to take on a road-block that the gendarmarie have put up between the headquarters of Katanga Command and the airfield.

As a part of the attack plan, a detachment, consisting of two sections of this battalion, is advancing from the airfield in two Swedish armoured personnel carriers so as to cut off the enemy's retreat from the road-block.

This small body, under Captain Gurbachan Singh Salaria, comes under heavy fire from an enemy position about a mile from the road-block. Captain Salaria decides to attack the enemy position which, it is later discovered, has about 90 men defending it together with two armoured cars. Supported by a rocket-launcher, he leads his men, comprising 16 Gorkhas, into a tactical position using grenades and unsheathed khukris. Fully realizing the disproportionate ratio of force of his small platoon of 16 men, against more than 90 opponents, he soon rallies his men behind him and charges at the enemy position in a fierce khukri assault.

In the fighting that followed, more than 40 rebels are killed  and Captain Salaria is gravely wounded.

Two bullets have pierced his neck and he has collapsed on the last line of trenches. The ferocity of the attack, the blood curdling war cry of the Gorkhas – Ayo Gorkhali (The Gorkhas Have Arrived) and the flashing khukris are too much for the gendarmarie…and they flee in confusion, leaving their dead and wounded behind.
As the Indian Army website notes:
Captain Salaria prevented the enemy from going to the roundabout thereby saving the UN Headquarters in Elizabethville from encirclement. His leadership, courage, unflinching devotion to duty and disregard for his personal safety were in the best traditions of the Indian Army. For his extraordinary leadership and devotion to duty, Captain Gurbachan Singh Salaria was awarded the highest wartime medal, Param Vir Chakra, posthumously.
CITATION
Captain Gurbachan Singh Salaria, 3/1 GORKHA RIFLES (IC-8947)
On 5 December 1961, 3/1 Gorkha Rifles was ordered to clear a roadblock established by the gendarmerie at a strategic roundabout at Elizabethville , Katanga .  The plan was that one company with 2 Swedish armoured cars would attack the position frontally and Captian Gurbachan Singh Salaria with two sections of Gorkhas and two Swedish armoured personnel carriers would advance towards this roadblock from the airfield to act as a cutting-off force.
Captain Salaria with his small force arrived at a distance of 1500 yards from the roadblock at approximately 1312 hours on 5 December 1961 and came under heavy automatic and small-arms fire from an undetected enemy position dug in on his right flank.  The enemy also had two armoured cars and about 90 men opposing Captain Salaria's small force.
Captain Salaria appreciating that he had run into a subsidiary roadblock and ambush and that this enemy force might reinforce the strategic roundabout and thus jeopardize the main operation, decided to remove this opposition.  He led a charge with bayonets, khukris, and grenades supported by a rocket launcher.  In this gallant engagement, Captain Salaria killed 40 of the enemy and knocked out the two armoured cars.  This unexpected bold action completely demoralised the enemy who fled despite their numerical superiority and protected positions.
Captain Salaria was wounded in his neck by a burst of automatic fire but continued to fight till he collapsed due to profuse bleeding.  Captain Salaria's gallant action prevented any enemy movement of the enemy force towards the main battle scene and thus contributed very largely to the success of the main battalion's action at the roundabout and prevented the encirclement of UN Headquarters in Elizabethville.  Captain Salaria subsequently died of his wounds.
***
Captain Salaria had turned 26 just five days before he died in action. As you go about your day today, please spare a moment to remember these heroes.
Related Posts:
Saluting our Heroes: Maj Shaitan Singh, PVC
Saluting our Heroes: Maj Somnath Sharma, PVC