Some of you may have already seen these two videos that have been doing the rounds on the internet. They show a mini riot and violence that occured in Miraj (Distt. Sangli) in Maharashtra late last week.
About 2 minutes into the first video, you can clearly see a mob that has assembled (although not clear how and from where)…
First Video (7 mins long)
.
The second video (3 mins long) shows what happened…
The videos raised a lot of questions in my mind – broadly around two issues:
A] What should have been the response of the District Administation in this situation? The restiveness of the crowd is clear and I think the policemen on duty must have sensed trouble…Did they not have reinforcements? Was someone from "higher up" directing them what to do? Were they under orders not to do anything?
I must say that seeing someone climb a police jeep while a uniformed officer is watching does not exactly inspire confidence …and sends all kinds of wrong signals to an assembled mob.
B] The second thought was why did this incident not get reported? When I did a Google search a few hours back, none of the the first few links on this incident came from any of the mainstream media outlet (screen shot of first few links in the search results below)…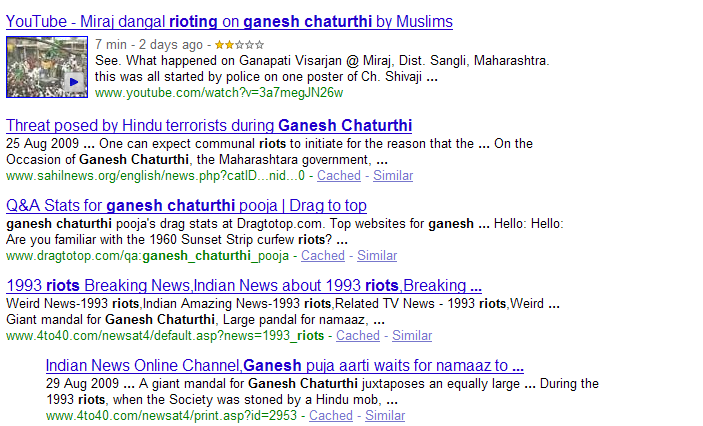 .
The 2nd news link ("Threat posed by Hindu Terrorists") is a translation of an article from Rashtriya Sahara published in Bangalore (originally in Urdu) warning of threat posed by Hindu terrorists during Ganesh Chaturthi; dateline 25 August 2009

What explains the "silence"?
Was it because no one was killed? or no one appeared injured?
Was it because there were no cameramen/women conveniently positioned?
Was it because Hindu sacred icons, temples being desecrated and vandalised is old news*?
Was it because showing rioting Muslims is no longer considered news-worthy?
What explains the "silence"? and what is the district administration doing to bring the culprits to book?
***
UPDATE: Courtesy IBNLive (emphasis mine)
….communal clashes…erupted over a poster during Ganesh Utsav festivities last week.
The organisers allegedly also held a "victory rally" near the arch, depicting all the followers of Chhatrapati Shivaji in saffron and Afzal Khan supporters in green.
SP (Superintendent of Police) Krishna Prakash's version of what happened (as reported by IBNLive):
This is a historical fact (Chhatrapati Shivaji's killing of Afzal Khan) which nobody can challenge, but despite our pleas, the organisers put it up prominently where everybody would take note of it…

…as it always happens, some miscreants exploited the situation to give it a communal twist especially in view of the recently-concluded Ganesh Utsav festival, the ongoing Ramzan month and the ensuing assembly elections
IBNLive further reported:
(SP Krishna Prakash) was addressing crowds of both communities from the bonnet of his official jeep when an unidentified youth also climbed atop the vehicle and tried to shout him down.
Suddenly, there was a hail of stones from different directions, prompting police to start caning the protesters.
Some of the stones are also said to have landed at the Ganesh idol, leading to heightened tensions.

This was followed by violent clashes between members of the two communities that afternoon in which the poster depicting Chhatrapati Shivaji and Afzal Khan was ripped off by some unknown persons.
***
I leave it to your individual judgement(s) to figure out what actually happened.
P.S. Thanks to Sh Krishen Kak for this brief excerpt to refresh the memory of the encounter between Chhatrapati Shivaji Maharaj and Afzal Khan.
Shivaji and Afzal arranged a meeting at a large tent at the foothills of Pratapgad. It was agreed that the meeting would be unarmed, and each man was to bring ten personal bodyguards, remaining one arrow-shot distance away. Both were prepared for treachery: Afzal hid a kataar, a small and sharp dagger, in his coat. Shivaji wore armour under his clothes, and carried a weapon called wagh nakh ("tiger claws"), consisting of an iron finger-grip with four razor claws, which he concealed within his clenched fist.

As the two men entered the tent fixed for meeting, Khan pretended to greet Shivaji with a hug, and stabbed Shivaji in the back with his kataar. However Shivaji, due to the armour under his coat, was saved. Shivaji opened his fist and disemboweled Khan with his wagh nakh. [ link ]
As Sh Kak emphasises: Afzal Khan stabbed Shivaji first, but failed. Shivaji stabbed back, and succeeded. That's history.
* Below are links to recent (last few weeks) incidents of desecration of Hindu icons (pl. read this post to understand why I have deliberately and consciouly used the word "icon" in place of "idol"):
Lord Krishna's broken Murthy in Ahmedabad, 17 Aug 2009
Idol desecration triggers tension, Bangalore, 23 Aug 2009
Lord Shiva desecrated, Mangalore 17 Jul 2009
Gang desecrates Ganesha in Tamil Nadu, 25 Aug 2009
Somewhat Related Posts:
Was this a cover-up or blind omission? [ must read ]
"Are Hindus Violent?" – Excerpts

.