Thanks to Sanjay for alerting me to this surprising table (below) from "The Danger of Hindu Christian Riots in Andhra Pradesh" by Dr T H Chowdary.
A brief excerpt:
The weeks-long Hindu Christian riots in Kandhamal District of Orissa and similar incidents in Karnataka are not unlikely to be repeated in Andhra Pradesh very soon….(but) In Andhra Pradesh, strife is building up and will burst with great fury in not too distant a time. In Village after Village, different denominations of Christians are planting churches, recruiting converts as pastors, paying them handsomely, they are also engaging thousands of unemployed Hindu youth for propagating Christianity and gaining converts. These are being rewarded in installments.
A look at the Table below shows…there is one place of worship for seven Christians and one place of worship for 39 Muslims and one place of worship for 341 Hindus.
.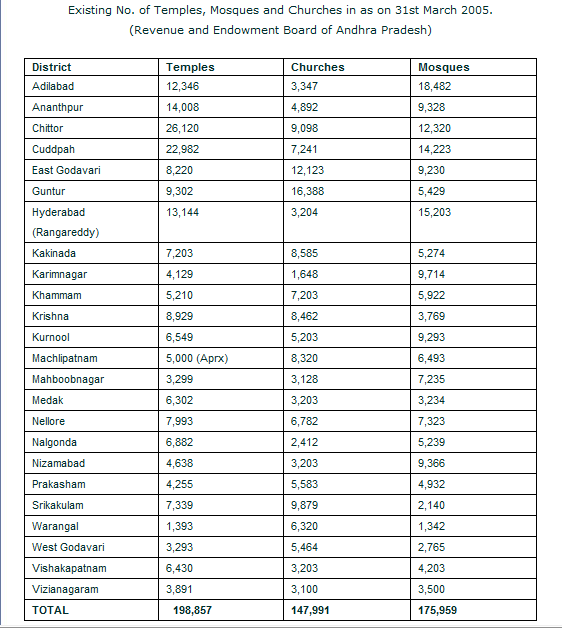 …Where from is the money coming for the large number of Christians' places of worship, if the Christian population is only 1.44%? …
…Almost all Hindus are feeling tremendously agitated about the intense activities of the multinational conversion enterprises, their planting of churches in Villages. Families are getting divided, so are Village populations and so will be the entire polity in the state.
…In Andhra Pradesh especially in districts of the Godavari, we are sitting on a time-bomb of Hindu-Christian strife. To prevent this, intelligentsia in the State and newspapers and media men with integrity must bring out the facts, including the conflict between 1.44% Christian population according to government on the one hand and thousands of churches and claims of Christian leaders that their population is 10% and more. Government should also find out where from the money is coming for thousands of full timers and buildings for churches. Income Tax authorities must also swing into action to assess the total cost of all the churches that are built and find out from the church owners, the sources of their funds…
End of excerpt.
Read the full story here.
Related Posts:
On Kandhamal, Conversions and Proselytization
"Why are Christian Missionaries targeting India – III
This whole category of posts: Conversions, Missionaries in India
Testing the limits of minority appeasement (Excerpts from another post by Dr T H Chowdary)