This post has been a long time coming. It was triggered by an article on Sanjeev's blog lambasting the Rashtriya Swayamsevak Sangh (RSS). Being familiar with Sanjeev's writing and his capacity for research and analysis, I was looking for something thought-provoking.
I was not disappointed.
In his long critique of the Sangh, Sanjeev makes the case against RSS through a series of points. Last week, I finally managed to read the 20-pg document. This post is an attempt at responding to some of the criticisms levelled by Sanjeev against the Rashtriya Swayamsevak Sangh.
Continued below…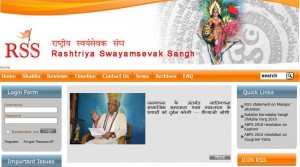 It is by no means a comprehensive response. For that, I will need to spend considerably more time than I have at present. But I hope it will provoke a discussion and debate on the blog. To balance Sanjeev's perspective, I am also reproducing excerpts from an email and a recent article (both with essentially pro-Sangh sentiments) to give the other side of the story. But first, some brief excerpts from Sanjeev's post and my responses in italics:
*** Excerpts from The Case Against RSS ***
Excerpts begin (Sanjeev's assertions are in blockquote):
Over the years I've noticed an increasing tendency among intellectuals in India to gloss over the great many problems with the Rashtriya Swayamsevak Sangha (RSS), the successor of the Hindu Mahasabha.
Actually the RSS was not a successor of the Hindu Mahasabha (estd. 1915) but a breakaway group. It was formed a full 10 years after the Hindu Mahasabha. Two of the most prominent early leaders of the Sangh – Hedgewar and S P Mukherjee – had both left the Mahasabha owing to serious differences – amongst other things on "Mukherjee's proposal to allow Muslims to gain membership" (mentioned here).
I've therefore compiled a number of academic critiques (and some newspaper reports) that highlight the dangers that RSS poses to India as a modern, prosperous, and non-violent nation.
This is actually my main criticism. Instead of relying on primary or empirical evidence (or even on comments of Sangh leaders), Sanjeev has essentially done a compilation of academic research and newspapers reports on the Sangh (some of it, dated) and a lot of it based on hearsay rather than rigorous research.
Communalism of the Congress and BJP | BJP are not true Hindus – provides links to many articles which talk of the role of RSS in fanning communalism in India, and actively participating in communal riots, e.g. http://www.liberalpartyofindia.sabhlokcity.com/communal/riots.html
I will separately review this specific article.
Next some specific quotes from Sanjeev's post:
2. "The utopian future of militant Hindu ideology is more a revival of Hindu glory than a reformation, and character in this utopia is not molded to accommodate cultural diversity. In a manner as inherently ambiguous, inconsistent and tautological as Calvinist predestination, the RSS philosophy advoc- ates action without transformation."[Joseph S. Alter, 'Somatic Nationalism: Indian Wrestling and Militant Hinduism, Modern Asian Studies, Vol. 28, No. 3 (Jul., 1994), pp. 557-588]
Is not clear why and on what basis is the "utopian future of militant Hindu ideology is more a revival of Hindu glory than a reformation" and why does the author feel that "character in this utopia is not molded to accommodate cultural diversity"
3. "groups such as the Rashtriya Swayamsevak Sangh (National Servants' Society, RSS) and the Vishva Hindu Parishad (World Hindu Council, VHP)- … that have targeted India's Muslim minority as a dangerous internal enemy threatening the unity of the nation." [Norbert Peabody,'Inchoate in Kota? Contesting Authority Through a North Indian Pageant-Play, American Ethnologist, Vol. 24, No. 3 (Aug., 1997), pp. 559-584]
No evidence cited for the broad statement: " targeted India's Muslim minority as a dangerous internal enemy"
4. "According to Golwalkar, who succeeded Hedgewar as executive director of the RSS in 1940, all Muslims were by definition traitors to India and not even deserving of citizenship rights (Gol- walkar, 1939:52). Golwalkar was an open admirer of Nazi Germany, and argued for the exclusion of Muslims on the grounds that 'Germany has also shown how well-nigh impossible it is for Races and cultures, having differences going to the root, to be assimilated into one united whole, a good lesson for us in Hindustan to learn and profit by' (Golwalkar, 1939:35)." [Sucheta Mazumdar, Women on the March: Right-Wing Mobilization in Contemporary India, Feminist Review, No. 49, Feminist Politics: Colonial/Postcolonial Worlds (Spring, 1995), pp. 1-28]
I would love to see this quote – in original and in context. Unfortunately no links here.
6. "The main mechanism for political mobilization of the RSS-VHP- BJP in the 1980s has been marches from one end of India to another….Each segment of the march concludes with Hindu sacrificial rituals honouring Mother India (Bharat-mata) [Sucheta Mazumdar, Women on the March: Right-Wing Mobilization in Contemporary India, Feminist Review, No. 49, Feminist Politics: Colonial/Postcolonial Worlds (Spring, 1995), pp. 1-28]
Not clear if the "sacrificial rituals" actually involved live sacrifices/blood offerings or were they merely elaborate "poojas"?
"The BJP-VHP-RSS version of history is propagated through the use of popular comic and cartoon magazines as well as collections of essays, stories and poetry …In all the states in which the BJP has come to power in the legislative assemblies, one of the priority projects has been the rewriting of Indian history textbooks.
There are numerous posts on this blog on this specific matter so I will not dwell on this except to provide a few links. Pl. read Distorting history…and getting paid for it and Lies and half-truths in the name of national integration and On Aurangzeb, Kashi Vishwanath, Lies and Half-Truths
7. 'Renascent Hindu communalism has taken its most extreme form in the development of a paramilitary organization called the Rashtriya Svayam- sevek Sangh (RSS), complete with cadres of highly trained troops and an ideology of the Hindu state involving the complete elimination of all non- Hindu minorities. [Cynthia Keppley Mahmood, 'Sikh Rebellion and the Hindu Concept of Order', Asian Survey, Vol. 29, No. 3 (Mar., 1989), pp. 326-340]
In my dictionary, paramilitary is defined as "a group which is organized like an army but is not official and often not legal". RSS is hardly organised like an army and it is certainly not illegal.
Two aspects stand out in these quotes. A majority of these quotes and excerpts are from the works of foreign authors (suggesting the possibility of bias) and/or are written from a socialist perspective. Words like fundamentalist, fanatic, militant are used almost interchangeably)
8. "The RSS as a cultural organization is exclusionary in its membership and approach [Baldev Raj Nayar. 'The Limits of Economic Nationalism in India: Economic Reforms under the BJP-Led Government, 1998-1999', Asian Survey, Vol. 40, No. 5, Modernizing Tradition in India (Sep. – Oct., 2000), pp. 792]
Quite the contrary. To the best of my knowledge, the Sangh does not exclude people based on caste, religion or language. I know for a fact that at least one "shakha" of the Sangh has non-Hindu members.
11. …'Indianisation of the Muslim outlook is the only solution of the socio-religious as well as the political aspect of the communal problem', declared a foremost RSS and Jana Sangh activist." [Mushirul Hasan, 'Indian Muslims since Independence: In Search of Integration and Identity,' Third World Quarterly, Vol. 10, No. 2, Islam & Politics (Apr., 1988), pp. 818-842]
Eerily similar thoughts were expressed by Tavleen Singh a while ago – who, as far as I know, has nothing to do with the Sangh.
12. …Identified as one of the architects of the Rashtriya Swayam Sevak (RSS), Savarkar defined the boundaries of Hindutva in a communal manner…[Runa Das, 'Postcolonial (In)Securities, the BJP and the Politics of Hindutva: Broadening the Security Paradigm between the Realist and Anti-Nuclear/Peace Groups in India,' Third World Quarterly, Vol. 24, No. 1 (Feb., 2003), pp. 77-96]
Wrong again. Savarkar and the Sangh remained at odds right until his death in 1966 – primarily over differences in opinion re. political participation. Pl. see this article as an example. And it is not clear how the boundaries of Hindutva have been defined in a communal manner. As with most critiques of the Sangh, these academic papers are heavy on words and light on facts.
The 'insiders' or those who are able to equate their land of birth with the sacred land of their religion are 'appropriate citizens', whereas the 'outsiders' or those whose Fatherland is not the same as their sacred lands are suspect in terms of their civic status and patriotism." [Runa Das, 'Postcolonial (In)Securities, the BJP and the Politics of Hindutva: Broadening the Security Paradigm between the Realist and Anti-Nuclear/Peace Groups in India,' Third World Quarterly, Vol. 24, No. 1 (Feb., 2003), pp. 77-96]
No evidence cited to support this statement.
13. "An important role is played by the Rashtriya Swayamsevak Sangh (RSS), a militant organization that emerged in the 1920s and has been continuously involved in communal violence against Muslims (Hansen 1999)." [Peter van der Veer, 'Religion in South Asia', Annual Review of Anthropology, Vol. 31 (2002), pp. 173-187]
Nice sound-bite. Where is the evidence of continuous involvement in communal violence against Muslims?

17. "The author's critique of the RSS is built around the organisation's core trait, which according to him, is 'fascism'. …Fascist politics abhors democratic politics based on individual freedoms and as such the values of pluralism, tolerance and individualism, though it can take on the pretence of a democratic player in a democracy …The shishu mandirs and vidya bharatis and other cultural and educational fronts help in disseminating a fascist mindset among a wider public. This mindset is then reinforced by calculated acts of violence against Muslims and Christians. …" [Manjari Katju, 'Convincing Message: A review of The RSS and the BJP: A Division of Labour by A. G. Noorani', Social Scientist, Vol. 29, No. 1/2 (Jan. – Feb., 2001), pp. 84-87]
The phrase that gives it away is "according to him". As for the Sangh's educational fronts helping to disseminate a fascist mind-set, please have a look at: A Deobandi in RSS: The story of Maulana Waseem-ur-Rehman
23. "…In fact, one member of the RSS (an extremist Hindu paramilitary unit), Nathuram Godse, assassinated him soon after one of his fasts for Hindu-Muslim unity had ended… [R. S. Perinbanayagam, 'The Dialectics of Charisma', The Sociological Quarterly, Vol. 12, No. 3 (Summer, 1971), pp. 387-402]
Pl. download and read "Truth and Travesty: RSS and Gandhi's Assasination" from the Box.net widget on this page of my blog.

I could continue in this vein but I think readers now probably have a fair idea about the points that are being made. In any case, I will be inviting Sanjeev to comment on this post. But before I conclude this bit, I need to point out one last error.
4. "The biggest danger to the BJP-led government continues to be from members of the Rashtriya Swayam Sevak Sangh (RSS) family (the Sangh Parivar), who are likely to continue to test the limits of governance. Attacks on Christians in Gujarat and the murder of an Australian missionary in Orissa, as well as attempts to shape spe- cific aspects of the education curricula, exemplify the dangers posed by BJP family members." [Devesh Kapur. 'India in 1999', Asian Survey, Vol. 40, No. 1, A Survey of Asia in 1999 (Jan. – Feb., 2000), pp. 195-207 ]
Please read these two reports on the murder of Graham Staines. As for the attacks in Kandhamal, please see these links: On Kandhamal, Conversions and Proselytization. The other side of Kandhamal… and Who really killed Swami Laxmanananda?.
*** End of Excerpts***
Next, the other side of the story – in the words of a "swayamsevak".
*** Excerpts from "The Secretive RSS" (extracted from an email) ***
My morning began as usual with freshening up myself with no. 1 newspaper of the world, Times of India accompanying to the wash room. I was stumped to find the RSS change of guard as the lead story. What's gone wrong with the guys? Where had my familiar and comforting news about IPL and incest and violence related staple news? And how come a communal outfit got the top billing? …But, I was surprised by the expert comment of TOI that RSS was a secretive organization.
I reflected very hard on these comments by the most responsible newspaper of India (or the world). It won't make a comment lightly on such an issue of national importance. I went back over my years or rather decades of association with RSS and tried to make sense of this comment.
As a hapless citizen of India ensnared by RSS in his tender young age secretly through simple Indian games which were on the verge of extinction and a secret to our west educated elite intellectuals, maybe I never realized the secretive nature of RSS. So, I tried to day past regression analysis of self vis a vis RSS.
I remembered the dubiousness of RSS recruitment. The simple looking fun loving teacher in RSS shakha had never told me that I was being initiated to a Hindu outfit which believed in Hindu consolidation…
May be the commands were designed in Sanskrit – an archaic and communal language so they could be kept a secret from people who wanted to study RSS? Why ofcourse, even the daily prayer the motherland was in Sanskrit.
…I had my own experience of this secretiveness when the police came calling to arrest my elder brother, who had been active years back in his youth and had moved to Surat by then, after the ban in 1975…
…As I grew up and got some responsible positions in RSS, I tried to remove the veil of secrecy by inviting press to various programmes of RSS. I used to feel quite let down when hardly any press person turned up for our programmes like festivals and camps etc. Generally, the English press reporters would simply forget the event by the evening probably with more interesting evening activities and the news would never get printed.
…I recall a massive Hindu mahasammelan that RSS associated organizations held in Mangalore just last week. Of course it did not escape the eyes of the so called National press as no one was beaten up nor was there any arson. May be if the volunteers had behaved abominably with some people the veil of secrecy over RSS could be ripped off.
…May be, what upsets the critics is the secret of the success of RSS. How does it manage to organize such massive numbers without any publicity machinery or media relations?
…As I think over, I realized that the veil of secrecy has been thrown around RSS by the press itself.
– by Ratan Sharda
*** End of Excerpts ***
and finally, concluding excerpts from an email from Ajay – who is an ardent supporter of the Sangh, although not an active member.
*** Excerpts from Email by Ajay ***
Though I have never been a member or active participant in both, I have been an ardent supporter and I am a big follower of the BJP. I have also been preaching and endorsing some of the RSS policies over a period of time (picking up the good ones) – right from the college days when I first learnt about it.
About RSS, whatever we hear and see in the media is not true at most times.
One thing that is creditable is that in case of any calamity, the RSS which is mainly run by the members is the first to reach and support the victims even before the army and the government aid.
It still is one of the most self disciplined organization. (Note: RSS is separate from Shiv Sena, VHP, or the Ram Sena)
…besides my family I owe to the BJP and the RSS my firm belief in Indians and committment to Indian-ness.
*** End of Excerpts ***
Disclosure: While I know a number of RSS volunteers personally, I am not a member of the Sangh.
Looking forward to a robust debate. Those of you who are members of the Sangh and/or are intimately familiar with their work, please do share your thoughts. If you do not wish to disclose your email address while posting a comment, you can use this dummy email address instead: satyacomment AT gmail.com
UPDATE: Pl have a look at the picture below..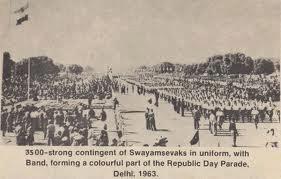 Some selected past debates and discussions:
Join the discussion on Islam, Hindutva, Dr Zakir Naik, Godhra
A rebuttal to Abul Kasem – "Women in Hinduism" by R Maliger
Hinduism, "Caste System" and discrimination – Join the debate