This is a "lazy" post…Lazy because it is actually a collection of posts by different bloggers/writers who I follow online. Yet, I don't feel the need to be particularly apologetic since I believe this collection of measures are some of the most forceful, realistic, practical ways of dealing with Pakistan. They all centre around the need to dismantle the power structures in Pakistan primarily by following a strategy of balkanization.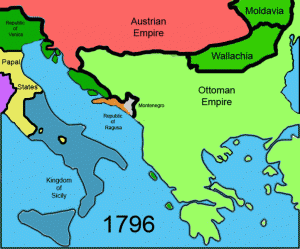 Image Courtesy: Wikipedia

I have written on this theme before (in a long/ *must read* post)…but the recent attacks in Mumbai add a while new dimension (and a sense of urgency) to this thinking. Read on…
The first extract is from Countering Pakistan's Salami Tactics by Offstumped (emphasis mine):
…what kind of a strategy would be effective against the many competing interests of Pakistan…(Such a strategy must):

recognize the many competing interest
never pose a common threat to Unify them
seek to isolate the State agencies from the Non-State actors
seek to insulate Chinese interests from the fate of individual groups
deprive the competing interests the shield of Nuclear Deterrence without directly threatening the nukes

Which leads Offstumped's half baked thinking towards a path that

it has to precipitate a crisis within Pakistan
it must pit one competing interest against the other
it must raise serious doubts about the safety of Pakistan's Nukes within the competing interests to the point where they dont trust each other but are also scared for their safety
it must culminate in governing interests within Pakistan calling for external intervention to ensure their very survival
the external intervention is conditional on the grounds of protecting various interests
the external intervention becomes semi-permanent to become the basis for balkanization and containment
Pragmatic has a great post on what finally prompted Pakistani government to ban LeT, Jamaat and allied organisations.
In that he writes (again, emphasis added),
…Islamabad has acknowledged that it is acting against the jehadi organisations only under "friendly" international pressure. Does it mean that had this pressure not come, Pakistan would have continued with its policies of actively supporting or turning a blind eye towards these jehadi elements. This leads to the real question. As this report in the Time magazine suggests, organisations like the Jamaat ud Dawa have a huge groundswell of public support in their favour, despite their links with the jehadi and terrorist organisations being common knowledge. So, the increasing radicalisation of Pakistani society [and not only the tribal areas bordering Afghanistan] has provided support and legitimacy to the jehadi philosophy and mindset. Dismantling the infrastructure of terrorism inside Pakistan, as demanded by India, will be, at best, a temporary respite. It is much more than the terrorist organisations and their backers in the Pakistan army and the ISI. Does the only permanent solution lie in dismantling and reconfiguring the Pakistani society, rather than merely tinkering with the polity, economy and security apparatus in a nuclear-armed state?

That has to be a part of the long-term solution that India must persuade the international community to follow…. What should be done in the mid-term to allow India and the international community to bridge their short-term goals and the long-term vision?

Denuclearising Pakistan would be, perhaps, a good idea to begin with. But how?
Next, a post from The Acorn in which Nitin expresses a slightly nuanced view. He writes:
So while attempting to bring about a collapse of Pakistan is undesirable, many of Prof Vaidyanathan's prescriptions lend themselves for coercive diplomacy. They allow India to pursue a variety of punitive and coercive policies in a calibrated manner, without raising military tensions. For instance, it would be untenable for the international community to disagree that all economic aid to Pakistan must be made contingent on its government meeting concrete deliverables, like extraditing terrorists that live in the open in its territory. In fact, The Acorn has long argued that the greatest failure of the "peace process" was that it distracted attention from the important objective of creating a range of flexible policy instruments that could not only be turned on and off, but also fine-tuned and targeted.

To modify B Raman's words a little, the capability to cause "a divided Pakistan, a bleeding Pakistan, a Pakistan ever on the verge of collapse without actually collapsing—-that should be our objective till it stops using terrorism against India."
Next, some excerpts from Stable Pakistan not in India's interest by Capt. Bharat Verma (Editor, Indian Defence Review). I had also quoted this in a comment to the Emergency in Pakistan post (emphasis mine):
…With Pakistan on the brink of collapse due to massive internal as well as international contradictions, it is matter of time before it ceases to exist.

Multiple benefits will accrue to the Union of India on such demise.

…The self-destructive path that Islamabad chose will either splinter the state into many parts or it will wither away—a case of natural progression to its logical conclusion. In either case Baluchistan will achieve independence.

For New Delhi this opens a window of opportunity to ensure that the Gwadar port does not fall into the hands of the Chinese. In this, there is synergy between the political objectives of the Americans and the Indians. Our existing goodwill in Baluchistan requires intelligent leveraging.

Sindh and most of the non-Punjabi areas of Pakistan will be our new friends.

Pakistan's breakup will be a major setback to the Jihad Factory, which functions with the help of its army and the ISI. This in turn will ease pressures on India and the international community.

With China's one arm, i.e. Pakistan disabled, its expansionist plans will receive a severe jolt. Beijing continues to pose another primary threat to New Delhi. Even as we continue to engage with it as constructively as possible, we must strive to remove the proxy.

At the same time, it is prudent to extend moral support to the people of Tibet to sink Chinese expansionism in the morass of insurgency. For a change, let us do to them what they do to us.

With Pakistan gone, the chances of Central Asia getting infected with the Jihadi fervour will recede. Afghanistan will gain fair amount of stability. India's access to Central Asian energy routes will open up.

…Above all, the gathering threat from a united group of authoritarian regimes along our 14,000 km borders, orchestrated and synchronised by Pakistan, will dissolve.

…It is intriguing, therefore, to hear New Delhi mouthing the falsehood that stable Pakistan is in India's favour. Perpetuation of such illogic for vote-bank politics is harming the consolidation and integration of the Union. Short-sighted politicians as usual are overlooking the national interest for the short-term personal gains of a few votes.
And finally, a brief excerpt from "Risk Factors" by George Packer, The New Yorker (thanks to Sanjay for forwarding me the link; emphasis mine)
A few days after well-armed men mowed down scores of helpless people in Mumbai, an American commission released a report on terrorism and weapons of mass destruction. "World at Risk" is one of those conscientious, bipartisan efforts, its importance signalled by publication as a trade paperback, whose sober findings and pragmatic recommendations momentarily give you the sense that every problem—even one as alarming as the likelihood that "a weapon of mass destruction will be used in a terrorist attack somewhere in the world by the end of 2013"—has a common-sense solution. The report includes chapters on biological and nuclear risks, and one titled "Pakistan," which would seem to suggest that the nation itself is a kind of W.M.D.

…In one sense, the most appropriate response—articulated by commentators and ordinary people after the terror was over—is to express solidarity with the victims, and also with the idea of Mumbai, which, like the idea of New York, represents a vision of society that is the opposite of the vision behind names like Lashkar-e-Taiba and Hyderabad Deccan Mujahideen: impure, secular, modern, open. But moral revulsion doesn't suggest an intelligent course of action. The attacks in Mumbai reveal the vexing complexity of the interconnected conflicts throughout south Asia. …Islamist radicalism is the main spark that keeps inflaming these conflicts.

Some commentators have simply demanded that Pakistan rid itself of the virus of extremism that threatens its own security as well as its neighbors'. But which Pakistan is going to do it? The weak civilian government of President Asif Zardari? The two-faced security services? The tribal leaders along the Afghanistan border? The huge, overwhelmingly poor, tumultuous population? The core problem is that Pakistan is no longer really a country, if it ever was. "Our Pakistan strategy is hopelessly at odds with reality," David Kilcullen, a former counterinsurgency adviser to the State Department, said. "We treat it as an earnest but incapable ally in the war on terrorism." In fact, some civilian elements of the government are American allies; some military elements are American enemies. The wild northwest, where Islamist militants have extended their control and created a safe haven for Al Qaeda, has thwarted those who would govern it for a long time. Lord Curzon, the British viceroy of India at the turn of the last century, fumed, "No patchwork scheme—and all our present recent schemes . . . are mere patchwork—will settle the Waziristan problem. Not until the military steam-roller has passed over the country from end to end, will there be peace. But I do not want to be the person to start that machine."
Related Posts: