Coming Out of the Closet – Who is B Shantanu?
30 October 2008
5,138 views
61 Comments
*** CAUTION: LONG POST ***
My name is Shantanu Bhagwat. Some of you who are reading this know me…Most of you do not.
I am was* a partner in a venture capital firm in London. I have spent more than seven years at this firm…working with some very smart people, investing in a few fascinating ideas and meeting some truly talented people …
Prior to Amadeus, I worked briefly at another great firm…Monitor Co. Some of you may know of Monitor as Michael Porter's firm. Others may have heard of Monitor's blue-chip connections.
And before Monitor, I was part of India's "charmed circle" – the civil services – as a diplomat in the Indian Foreign Service…During the time that I was in the IFS, were the several years I spent in Japan. That was also where my daughter was born. Japan will always have a special place in my heart.
But this post is not about Japan. It is about India.
Compared to a vast majority of my fellow citizens, I have had a privileged existence – at least for the past many many years…And I was also extremely fortunate to have the opportunities to realise my potential…
Many of our fellow citizens are denied this opportunity. For them, the doors to a better, brighter future are shut…for them, the joy of achievement is something that they may never experience.
For them, each day is a monumental struggle, each moment a study in despair, frustration and hopelessness…
It does not have to be like that.
I belong to a very rich and blessed country…Yet my fellow Indians are destitute and miserable.
Have you ever paused to think why? Have you ever paused to think what can you do about it? Have you ever paused to think how can this be changed?
Until a few years ago, whenever I had thoughts like these, I used to talk to a few friends, make a few phone calls, find something worthwhile that someone was doing and make a charitable contribution…
I could then sleep peacefully at night – believing that I had done my bit for my country…Isn't charity very uplifting and ennobling?
Gradually it dawned on me that charity will not solve this problem – it cannot. I realised that the roots of our poor development, the suffering of millions, the pain and the despair that the vast majority face everyday were elsewhere.
*** Identifying the roots of the problem ***
It was becoming clearer to me that India's *fundamental problem* was poor governance and bad policies… and there was only one way to change that…Fortunately that way did not require a bloody revolution.
One of the "blessings" of being an Indian is to belong to a democracy, to a system where change can be brought about by popular will – and does not have to be forced down the barrel of a gun…
But living amidst freedom, amidst a free society, entails responsibilities and duties…somewhere along the way, we – the healthy, educated and fortunate citizens of India – began to take the "fruits" of freedom (free speech, individual liberties, rule of law) for granted and forgot the responsibilities that these entailed…
Responsibility to think about our policies, responsibility to participate in the political process, responsibility to act…
For this, I do not blame the vast majority of our population whose life is a daily struggle for survival and basic dignity…You cannot think of policy on an empty stomach…and you cannot feel patriotic as you walk miles to get a "haandi" of "drinkable" water…
But what about you and me? You and me who are most likely reading this sitting somewhere comfortable, with our stomachs full, with enough bread on the table, enough food in the refrigerator, enough water to have a bath twice a day if you want?
What about you and me who are fortunate but shy away from thinking about the unfortunate?
What about you and me whose stomachs are full but who salve their conscience by donating to charity?
What about you and me whose response to misery has so coarsened that looking away from a beggar is no longer a conscious activity but a reflex action?
What about you and me who only feel patriotic on 15th August and possibly 26th January?
What about us?
Why don't we think about what is wrong with our policies? our governance?
What can possibly cause starvation deaths in a country that produces enough food for its billion-plus population?
What can possibly cause farmers to attempt suicide and sell their daughters for a few dollars?
How can it be water is actually "sold" in Cherrapunji – which receives the highest rainfall anywehe in the country?
How can it be that we can launch satellites in space but cannot ensure a basic dignity of life to the millions who are our poor?
*** The way forward ***
These questions began to trouble me…and have been haunting me for the past few years.
Alongside, there were other issues…many issues that made me feel angry, helpless, frustrated and dejected…
During the last few months, it felt that this cycle of anger, frustration, despair and deep desire to do something radically different was being repeated ever few days…
Reading the news every morning used to make the stomach turn or cause my blood pressure to rise…Every discussion about India came to be tinged with bitterness, anger and rage…until I stopped discussing "politics" with friends completely.
My only solace was my semi-anonymous blog and a few internet groups where I found kindred souls..
Then something happened…
Almost unconsciously, I felt the change…
I still remember the triggers…The first was probably the shameful perversion of democracy on the floor of the house on 22nd July. In response to my post on this subject, Sanjeev Sabhlok challenged everyone to either rise and do something about it or shut up.
That shook me to the core….it hurt ..but it probably hurt even more because it was true…
How long can we wail and beat our chests about the rot, the decay in the system? How long can we continue to cry about the despair and the frustration it generates? How long will we contend ourselves with post-dinner discussions and wake up the next morning pretending (or worse, forgetting) that everything was really OK?
The second trigger were the blasts in Bangalore and Ahmedabad…Ironically, I had been to both these cities just a few days before…But strangely it did not feel like I had cheated death…
I tried to remember when was the last time I had felt really close, very close to being scared…
Regular readers of my blog (and friends) noticed the change in me…one even said, they could feel my anger by reading the posts on the blasts.
I was glad that my feelings had found an outlet…but this was not enough…clearly a lot more needed to be done…
Somewhere down the line, sometime in the last few weeks, these feelings turned into something positive – a positive determination to do something…a positive determination to bring about change…a positive determination that we will succeed.
Other events and things happening around me, helped make the decision…I watched with awe and fascination as the Obama campaign changed the paradigm of fund-raising in the US by reaching out at the grassroots… I began to read about interesting experiments that were happening around "crowd-funding".
I realised that I had to think differently – almost like an entrepreneur – here…what I had was an idea and a grand vision that could change the world…now I needed to make that happen…
I tried to distil down all the years of insight, experience, things I had learnt sitting on the other side of the table.
I began to think how could a group of committed and passionate people break the mould?
How could we change the paradigm of popular politics, of vote-banks, electoral compromises and sub-serving of national interest? How could we take this powerful idea – an idea of changing India – and actually make it work?
Success in this "venture" may not make any of us super-rich but it will put India on a vastly different growth trajectory…I realised that if we did succeed, we will have a chance to make the 21st century, India's century and help India reclaim her rightful place of pride in the community of nations…
…and even if we failed, it will not be for want of trying…
But this is not about the risks of failure…it is not about failure at all…This is about determination…a determination to change the way things are…a determination to create opportunities for our fellow citizens…a determination to try and do our best so that millions may live better…
This is about determination to "Change India"…and it is about hope…
Hope that many will support us…Hope that we are not alone…Hope that the time has come…Hope that when the going gets tough, we will not loose heart or courage…Hope that even in darkness, we will be able to carry the light in our souls…
And it is about belief…Belief and faith in ourselves…and the strength of our convictions.
For me, this is a defining moment, there is now no turning back.
Next: "Changing India: One Step at a Time"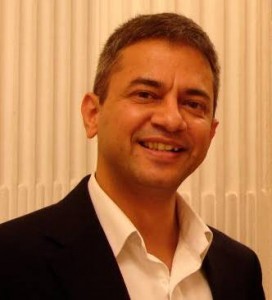 * UPDATE: I left the firm in 2009 to spend more time in (and on) India. Here is a brief profile of my current professional activities.