…of vote-bank politics, breakdown in law and order, land mafias and alienated ghettoes. Please read on…
I received this email about the Jamia Nagar encounter last weekend. It is from Shri Anant Trivedi. Sh Trivedi is an eminent and respected citizen of Delhi working mostly in areas of good governance and improving the lot of the citizens. It is important to mention that Shri Trivedi is NOT affiliated to any political party or organisation.
The email paints a bleak picture of vote-banks, breakdown in law-and-order and a fearful minority that appears helpless against increasing radicalisation. Reproduced in full below:
*** Email from Sh Trivedi ***
This area (Jamia Nagar) is very close to my colony and I have been there several times to attend functions organised by the previous MLC Asif Mohd Khan. It is a no go area for the law and order machinery, and BSES meter readers. The area is densely populated and resembles any other north UP city where there is a Muslim majority. Urdu is the only language of the region. Asif was a guest in Tihar for several months caught up in a Pota case.
I previously knew the area back in 70s and then it was totally different. My in-laws used to own most of the land we often spent time at the Bhaskar farm which is now one of the 'posh' residential compounds here.
At the last MLA elections I visited a school in Zakir Nagar where voter's id cards were being made and was shocked to notice that any one could get a card made after dishing out 100 Rs. No questions asked. So a visitor from Pakistan or Bangladesh could legitimately become an Indian citizen for a mere Rs100. For once you have a voter photo card then the rest follows.
Not long ago some one engineered a fight with a police constable to stop police patrolling of the area. A small qoran was deliberately knocked off a dhela and that gave them the excuse to start a fight. The local constable got trapped into this. Soon the local Sub SHO Sharma and a few other staff also got drawn into the melee and Sharma was thrashed so badly that he is lucky to be alive today. Okhla chowki was burnt down. Shaheen Bagh chowki became a Thana with all Muslim staff and the police now keep a distance form the whole area.
While the reporters were covering the live action (on the weekend), Asif Mohd Khan was hovering in the area and people had already started concocting stories that the police had come in about 3.00 am with the 3/4 of those killed. Planted them in the flat and then came back in the morning for the fake encounter. Huge crowds gathered behind the police lines and at about midday you could already hear loud anti police noises from the crowds fuelled by fake encounter stories. If police were not there in numbers and well armed, they would have been massacred.
What we are witnessing here is the result of years of vote bank politics in which poor from all over UP, Bihar, Bangladesh have been persuaded to settle in this area with false promises of livelihood by the likes of Parvez Hashmi. Even Salman Khurshid who lives in the area close to Batla House has done nothing to stem this steady tide of people coming in with hope of a better future than in UP, only to be caught up in mounting debt and living conditions no better than what they left behind.
They also become victim to the wrong elements from the local mosques who are always there to use religion as a tool to exploit the vulnerable. Our politicians are each day raising expectations of the vulnerable unsuspecting minorities. When stories of fake encounters and police excesses start circulating, then there are plenty of buyers of such stories since the mind has already been conditioned to expect this. It is quite possible that Police too desperate to produce results will sometimes engineer such encounters. But it is most unlikely that this was fake for after all why would the police provide arms to 'those they planted' only to have their own colleague got killed later?
It is always tempting to generalise, but the majority of Muslims in this area are not with jihadi tendancy. They are law abiding and peaceful, and want to get ahead in life. But they find it very difficult to stand up the criminal element, which is always ready to exploit religion or muscle to suppress any resistance to their criminal intent. Right next door to my home exists a small largely Muslim colony Zakirbagh. They have a small colony prayer hall that has been hijacked by outsiders and now the residents are totally helpless and at a loss on how to rescue their small colony where thousands assemble for prayers. The prayer hall leaders are no more than 4/5 in number! The block of flats next to the prayer hall is where Gov. Kidwai's family lives as well as Hassan Ahmad a prominent Congressman. Fearful of arousing religious sentiments, no one attempts to restrict entry of outsiders. Once prayer times were changed, and hundreds warned these hapless residents not to interfere with prayer issues ever again.
The cocktail of religion and politics is very potent and increasingly used by the politician.
Changing this situation and the mindset of the vulnerable minorities and helping them out of the rot they are in, is one of the biggest challenges for concerned citizens of India today.
***
Sh Trivedi's conclusion is sobering and though-provoking…If you think he is over-estimating the challenge, pl. read these excerpts from a "first-hand" account of the encounter…and notice the extraordinary parallels…vote-bank politics, breakdown in law-and-order, political goons, land mafia…
*** Excerpts Begin ***
…The incident happened in my neigbourhood, about 150 meters from my house. So I have the opportunity to see how things are turning up. I had gone out of the area for some work while the incident was taking place around 11 am, but found it impossible to reach back home 2 hours later, because the road for about 1 and a half kilometer (on both sides) was completely blocked, not by the police vehicles, but by the parked OB vans of the countless TV channels
…Most local people are surprised at the speed with which the TV crews arrived here and in such large number. Apparently, the Delhi Police had already told a section of the press they are going for a raid in Batla House, based on the suspect Abu Bashir's tip-off (I heard this from a anchor on Times NOW channel, although Police chief Dadwal is now denying there is any link with Abu Bashir), but they didn't obviously say it was going to be an encounter. Its strange that the local residents got to know about the incident only after the two people had been killed – many in fact learnt it from the Aaj-tak channel. They claim they heard only the police firing and no gunshots from inside the flat, which the police claim have injured two of their constables.
…Everything looks as if planned and part of the usual business. The cops are happily allowing the media to climb any wall to get the best shot while they beat the local rickshawpullers to leave the roads clean. The message has got across loud and clear: we told you – Batla House is a haven of terrorists.
But many things sound fishy. I've been hearing a lot of angry conversations in the neighborhood: people are asking that if the police had only planned a simple raid (which they did 2 days ago in Zakir Nagar and Abul Fazl Enclave too), why did they have to bring battalions of police and encounter specialists with AK-56 and other deadly looking guns (that I myself saw) in advance. And why is the media called in even before the residents are told. Of course the fact the this happens in the month of Ramzan, on a Friday, and near a large mosque where people were going to gather in large numbers later for prayers, sounds just too predictable and clichéd for anyone's imagination. Some locals claim that the police had been visiting this place (and that particular house) since last few days. Most local residents feel that this was a stage-managed encounter just like so many others that have taken place in the past. However, with the news about the death of a police inspector, this claim is less likely to be taken seriously. But still, I did not find a single local resident who is not fed up with this oft-repeated image of Jamia Nagar as harboring terrorists. But none of the channels I saw aired the public angst against their portrayal.
…most local residents believe that for Jamia to become a haven of such criminal elements, the local police and land-mafia are equally responsible. Jamia area is one of the rare localities of Delhi where the rule of law doesn't apply in most spheres. The land mafia openly indulges in illegal construction; no rules of traffic apply here, the condition of civic amenities is abysmal. Illegal shops, factories (many with child labour) and businesses operate here actively with police connivance. The local politicians (MLA, councilors) are actually part of the problem rather than the solution. There is a full-scale illegal ISBT (bus stand) running in Batla House's backyard to bring hundreds of migrants everyday from small towns of UP (you can see the police openly accepting bribe from its operators any day).
…The local people, frightened that the next encounter may happen in their house, simply squirm and hide in their personal ghettos.
*** End of Excerpts ***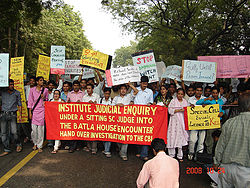 Image of protest rally against Batla House encounter, Oct '08 (Wikipedia)
I am now beginning to wonder whether the first step in tackling terrorism is an overhaul of the political system?
P.S. The "encounter" has raised questions of its own…but nothing is what it seems to be
Related Posts:
A tribute to Inspector Mohan Chand Sharma