Some of you may have already picked up this report: AP to give Christians subsidy to visit Israel
"…the Andhra Pradesh government of chief minister Y S Rajasekhara Reddy on Monday decided to dole out subsidies, on the lines of the Haj scheme, for Christians who want to visit holy sites in Israel.

Governor N D Tiwari in his address to the joint budget session of the Assembly and Council said, "My government has decided to extend the Haj pilgrim scheme to Christian minorities also for their religious visits to Christian Holy Lands in Israel."
RealityCheck has a great tongue-in-cheek response to it …in which he says (emphasis mine):
"…Therefore, the AP Hindus should try to get something similar.
Unfortunately, foreign trips are not possible because their religion is a local one. Trips to Mt Kailash are great, but the damn Chinese wont give permission for thousands to visit. Vaishnodevi, Badrinath, and Amarnath are great wonders, but once the beauty of the Himalayas sink in you will have to face the lack of infrastructure there. Trips to other glaciers are no fun because you may have to spend cold nights in army tents.

Sabarimala is a good candidate, but the communist government there want the "intellectuals" to decide on serious gender discrimination issues.  Even worse, it may actually be a buddhist shrine. As the media tells us, "too much cont-raw-varsy".  How about a trip to the Venkateswara temple at Pittsburgh ? I heard US Telugu hindus have contributed a lot for it. Only problem is that the temple might be too small to handle the influx.

How about Srisailam or Tirupati ? With a special one-time only duty free shopping concession at the new Hyderabad airport. Any other ideas ?.."
to which Dosabandit responded:
How about Bali in Indonesia? Would be a nice vacation too..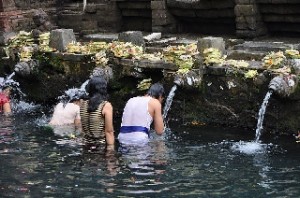 After all, Bali (also known as "the island of the thousand temples") may have "…more temples than houses…"
Related Posts:
Of Subsidies and Politics of Secularism and
Secularism or Politics of Appeasement?
Image courtesy: Wikipedia.