"Pseudo-secularism" at its best?
29 July 2007
712 views
36 Comments
This is one of the most extraordinary examples I have come across of contempt towards and complete disregard of Hindu sensibilities by our "secular government".
The chart shows how proceeds from ~ 250,000 temples in Karnataka have been distributed over the past few years (pl click below to enlarge):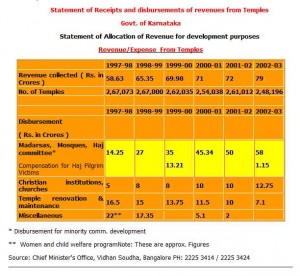 Sourced from BharatJagran.com
It shows that between '97-'98 and '02-'03, disbursements to temples for renovation and maintenance fell (more than halved) from Rs 16.5 cr to Rs 7.1 cr even as revenues collected from Temples rose from Rs 58.63 crores to Rs 79 crores.
Wait, there is more.
Over the same period, Disbursement to Madarsas, Mosques and Haj committee rose more than 4 times from Rs 14.25 cr to Rs 58 cr and disbursement to Christian institutions and churches more than doubled from Rs 5cr to Rs 12.75 cr [source]
Is there anything more that needs to be said?
P.S. Note that most temples in Tamil Nadu, Karnataka and Andhra Pradesh are controlled and managed by State Governments. This means that devotee contributions made to the temple necessarily go to the state treasury.